Intel demoes the MeeGo experience on tablets (video)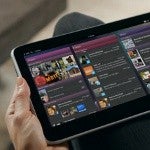 The Elopocalypse of recent days leftIntel disappointed and alone when it comes to MeeGo, but the companyis nonetheless committed to the OS as even in the beginning of MWCthere were huge posters showing MeeGo devices. Intel also continues with itsdeveloper programs via the App Up center. But let's get down tobusiness – tablets running the current version of MeeGo were ondisplay at MWC and Intel demoed the capabilities of the OS in aseries of promo videos.
The first thing you notice on the MeeGohomescreen is the presence of multiple panels, which you can easilydisable thus personalizing its looks. Nothing particularly flashy or mind blowing, and we could notice a slight lag even during the demonstations, but hopefully Intelwill manage to polish the OS in the near future. Finally, as anillustration to the current state of MeeGo, user experience designmanager Darren Wilson noted: "A lot of other operating systemshave got a lot of legacy, and they don't have the opportunity to pushthe boundries as we do." He also made a not-so-vague accusationthat other companies only scale existing phone platform, while Intelis not "taking a handset UI and scaling it up to a tablet."Check out the promo videos below to get a better sense of MeeGo.
source: Intel (YouTube) and The Register