Intel committed to MeeGo? Teases MeeGo smartphone and tablet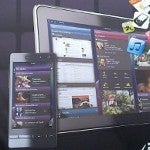 Friday's Elopocalypseleft Intel practically alone on the MeeGo front, as the OS will onlybe used for market exploration in Nokia, but nevertheless Intel stillseems committed to it. A gigantic poster at MWC depicting a MeeGo smartphoneand tablet proved that commitment.
And even just this sneakpeak of the future devices allows enough room for guesses. The firstthing you notice for MeeGo is the multiple home screen panes.The left side of the tablet version holds three tabs from the browser – a greatdecision for fast switching and true multitasking when browsing. Inthe top right corner a video clip hints at the tablet's HDplayback capabilities. The MeeGo layout on the yet unannouncedsmartphone looks similar, but of course smaller. So far we don't have any additional details, butstay tuned as MWC opens doors tomorrow and Intel will hopefully show the devices there.
source: Engadget