Intel CEO: Windows 8 tablets queued up, Android tablets can't compete with the iPad sans ICS
25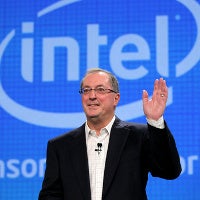 Intel posted better-than-expected quarterly and yearly results - actually the biggest chip maker had a
record year
with growth in revenue, net income, and earnings per share. With a brand-new marketing push for Ultrabooks, and a serious bid to enter the smartphone and tablet market with its Medfield chips, Intel is definitely looking forward to another good year.
But with that in mind, Intel's Atom chip for netbooks was the dark spot in the results as revenue from the chip dropped 25% year-on-year.
What's really interesting, though, is Intel CEO Paul Otellini's remarks at the conference call where he said
Windows 8 tablets are not that far away
, and that Android tablets cannot compete with the iPad if they don't come with Ice Cream Sandwich.
"The thing is, tablets are a little bit about hardware and an awful lot about software,"
Otellini said.
"And I think that until you get to Ice Cream Sandwich, the offering isn't as powerful as what's out there with Apple."
Intel has placed its bet on Android with the latest
Medfield chip
, which unlike Moorestown, is made on a single silicon piece, and offers significant improvement in power efficiency. The company thinks that with ICS Android will definitely advance more.
"As Ice Cream Sandwich tablets start shipping I think you'll start seeing a little bit better receptivity, you know Google just added the Music Store, the videos are better, everything got a little bit better with ICS,"
he said.
"And so, I think the better test is year two here, in terms of, is there anybody who can compete with the iPad."
Finally, Otellini added some interesting perspective on when we can see the first Windows 8 tablets saying that
"Windows 8 tablets that are being queued up for production."
Of course, Intel plans to use this to make its presence seen in the mobile market. Intel's presence there is expected to bring the cost of materials down and introduce better integration.
We've already seen the first benchmarks of Intel's Atom Z2460, and it's definitely impressive in the CPU department where a single-core
Intel chip beats dual-core ARMs of current generation
. Do you think that the company has what it takes to penetrate the mobile market?