Instead of reinstating its Windows Phone app, Geico edits the pig's phone
17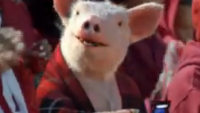 Not terribly long ago, we told you about the television ad run by Geico that had a pretty big blooper. The ad showed the Geico pig sitting in the stands of a crowded football game,
looking at the Geico app on a Windows Phone flavored handset
. The only problem is that the insurer doesn't currently offer a Windows Phone app. Actually, Geico did have an app for Windows Phone handsets which it removed earlier in the year.
When the commercial aired on Sunday during an NFL game, we taped it, reversed it, and froze it at the correct point in the ad where the pig's phone can be easily seen. And sure enough, the Windows Phone navigation keys had been removed. To further disguise the phone, a speaker on the top of the device was moved to the bottom and was replaced by a front-facing snapper.
Gee guys, all you really had to do was reinstate your Windows Phone app.
source:
GeicoInsurance
via
AndroidCentral