Instagram reappears on Windows 10 mobile
3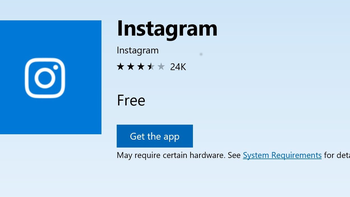 It lives! Well, sorta. It appears after a short absence,
Instagram has re-emerged
on Microsoft's dying (dead?) mobile platform. As
we reported
several days ago, the Universal Windows app for Instagram was updated to v.30 and the Mobile platform was dropped. It has since reappeared for Windows 10 mobile, but as v.10 which is an older version of the software. It is reported that users have lost some of the upgrades (which weren't numerous to begin with), but are now able to access the site via app again.
What does it all mean?
It most likely does not mean anything. Unfortunately,
Windows 10 mobile
is basically a dead OS that receives security updates through the next year. That leaves enough time for current users to switch to a supported OS. It has been common in recent times for app developers to pull support, tweak some things and the app reappears. They also tend to disappear again. There were even instances of new features appearing from Microsoft in insider builds which were released accidentally. The company then pulled the features with another quickly released update. Instagram may be available now, but perhaps gone again tomorrow. It is another good reason to start searching for another OS, even if some are sad to see it go.