Instagram is testing moving Direct messaging to a new app
8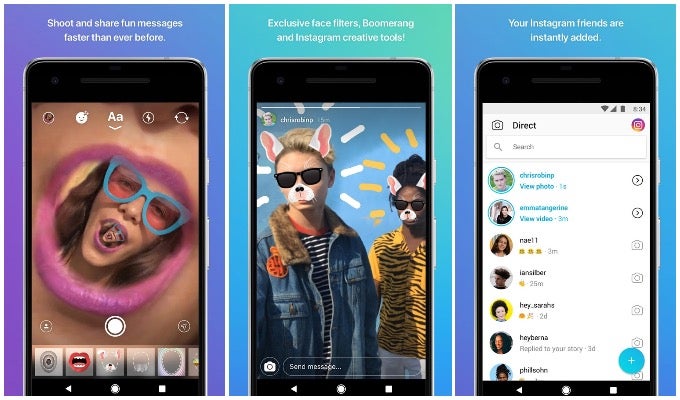 New filters and the Messages Screen in Instagram Direct
Today, Instagram Direct, Instagram's in-app messaging service, is being tested as a standalone app, and moving out of the main Instagram app for those who download the new one. As The Verge reports, the rollout today is just a test, launching in only six countries: Chile, Israel, Italy, Portugal, Turkey, and Uruguay. Essentially, the new Instagram Direct app is a camera-centric messenger aimed at making the messaging experience richer. And if anyone should know how to create a massively popular messaging app, it is Facebook, Instagram's parent company, and owner of both Facebook Messenger and WhatsApp.
Focused on image sharing, Instagram Direct opens directly to the camera so sharing can be easier than ever before. Swiping down from this screen shows your messages, very much like the opposite of Facebook Messenger when the camera was accessed with a swipe from the top. You will be happy to know that for the new app, Instagram includes four new filters including one that censors your speech when you least expect it, and another that superimposes your mouth over your mouth (yes, it is as odd as it sounds). Swipe right from the Camera screen, and you will find the Messages inbox, whereas swiping left will bring you to the various app settings.
While having to use two apps to enjoy the full Instagram experience will undoubtedly upset many users, at least Instagram makes it easy to go back and forth. Swiping right from the Messages screen in Direct brings you directly to the main Instagram app. Similarly, you can swipe into Direct from Instagram just as easily. Hopefully this ease will be enough to appease most users.
When Facebook split Messenger off into its own standalone app, it had about 500 million monthly active users. Now it has over 1.3 billion. As of April 2017, Instagram Direct, still married to the Instagram app, had around 375 million active monthly users. Judging by Messenger's success, we can only guess that if and when Instagram rolls Direct out worldwide, it too could enjoy the massive popularity that being standalone has been proven to bring.
While you can check out Instagram Direct's app page on
Google Play
, you will most likely not be able to download it quite yet.