InkPhone is an e-reader that doubles as a phone; long battery life means no "wall-hugging"
9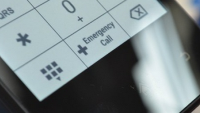 The MIDIA InkPhone is a new e-reader that not only allows you to read your favorite books, it also doubles as a phone. This way you can share your reaction to a particular passage with your fellow page turners. Manufactured by Onyx, an outfit out of Poland, the device is equipped with a front-lit 4.3 inch E Ink display and is designed for those who need the most basic of phones.
Thanks to the E Ink display, the InkPhone can last up to two weeks on a single charge. No "wall-hugging" here, Mr. Chen. The InkPhone is powered by a RockChip CPU and a small amount of RAM is on board. While there is only 4GB of native storage, the model does come with a 32GB microSD slot for additional storage capacity.
The MIDIA InkPhone will be available next month in Germany and Poland, but will also grace Amazon's website for those potential buyers elsewhere in the world, priced at €140 ($195 USD). While the InkPhone is powered by Android, it will not come with the Google Play Store and Android apps must be loaded using the APK as Onyx won't guarantee that its device can provide the kind of experience that users would want from a downloaded third party application.
source:
Engadget