Infographic shows who would win March Madness tournament among messaging apps
3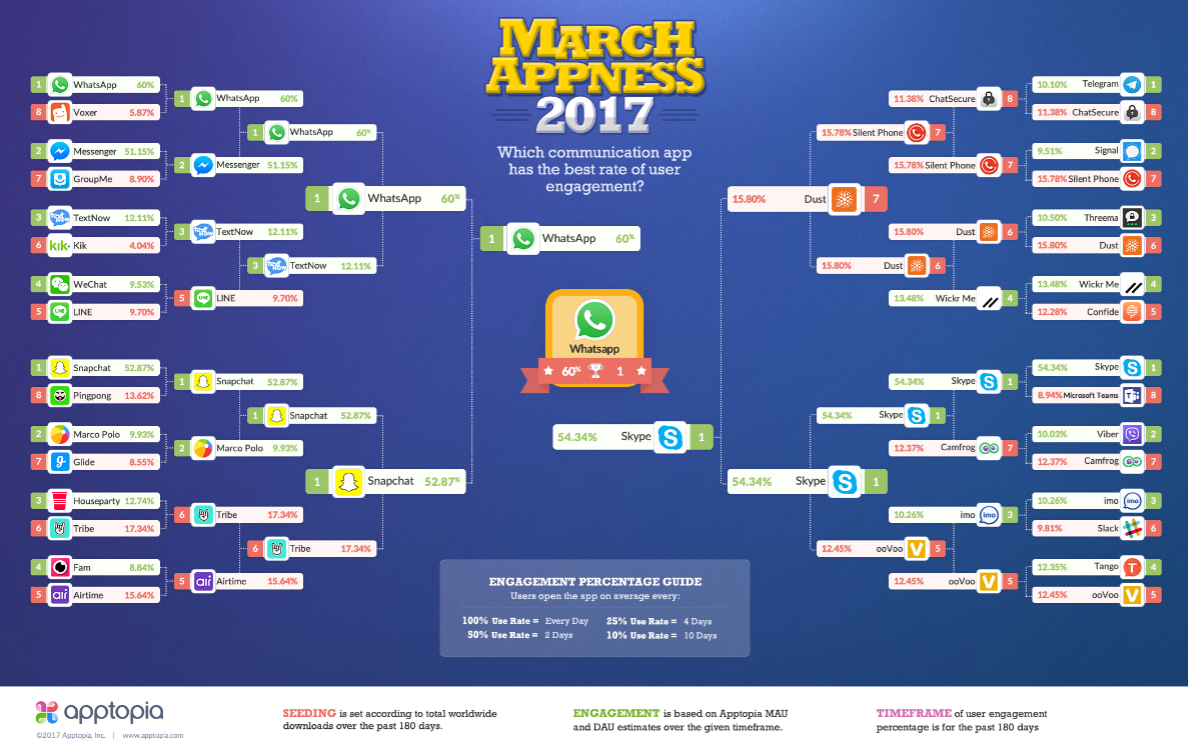 Which messaging app will win the tournament of 32?
The other day, the NCAA released the 68-team bracket for the single-elimination tournament that will crown the 2017 Men's College Basketball champion. But suppose that instead of college basketball teams, there was a tournament that pitted mobile messaging apps against each other. Which one would be named the best messaging app for your smartphone? With that in mind, Apptopia set up a tournament for 32 messaging apps. The seedings were based on global downloads over the last 180-days.
While the apps can't really compete against each other on the hardwood, they can compete using metrics such as user engagement. This is computed using an app's monthly and daily average users tallies using a 180-day timeframe. The number one seeds in the four fields of eight were WhatsApp, Snapchat, Telegram and Skype. Remember, actual metrics were used to determine the seedings and the winner of each match up.
The Final Four, as often happens in the real-life hoops tourney, contained a Cinderella app. While WhatsApp, Snapchat and Skype were still standing, a seven seed called Dust managed to make it to the semi-finals. In that round, WhatsApp beat out Snapchat and Skype had its way with Dust. In the finals, WhatsApp topped Skype by 5.66 percentage points. Let's hope that WhatsApp doesn't follow tradition and take down the (inter)net to celebrate.
source: Apptopia