Infographic claims US is pretty expensive for mobile data, best value-for-money goes to Korea
4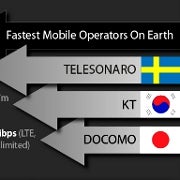 We don't know which exactly plans are the designers referring to, maybe they have taken the US carriers plans' average, but we are willing to let the conspiracy theories slide because of the other nice info crammed into the infographic. It seems that the best countries for wireless living are Korea, Sweden and Japan, judging from the network speed/unlimited data monthly charge ratios.
The
best value-for-money data plan crown actually goes to Korea
, which offers unlimited traffic for $54 with average network speeds of around 40Mbps, while
for the fastest commercial network on Earth you have to move to Sweden
, which was the first to roll LTE - $78 per month for 30GB of usage gets you 80Mbps average speeds.
Ericsson recently tested its LTE Advanced network
in Stockholm, showcasing speeds up to 1Gbps, so that is one additional incentive to speed up that planned relocation to the Scandinavian country for any mobile data fanatic.
source:
Visually
via
DailyMobile