Infinity Blade Franchise tops $30 million in revenue
8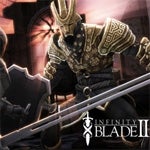 If you're one of the few hold outs that doubt mobile technology as a legitimate gaming platform, it's time to start looking at the numbers. Epic and ChAIR Entertainment have just announced that they have earned over $30 million from the Infinity Blade franchise.
It has been about one year since the release of the original Infinity Blade, which has generated over $23 million by itself. Infinity Blade II, the second inclusion to the franchise, has generated well over $5 million in the short time since its release on December 1, 2011.
Infinity Blade II has won several industry awards as well as receiving a "Perfect 10" from IGN. The Unreal-powered masterpiece is a showcase of how mobile devices can make a viable gaming platform. From the looks of things, Epic isn't stopping here.
"
The success of the Infinity Blade franchise is testament to our talented team who is devoted to making games we want to play, all while using Unreal Engine technology to redefine what is expected from games on iOS devices
," Epic Games President Dr. Michael Capps said. "
We have so much more in store for players, and will continue to make great content for Apple's evolving platforms.
"
We look forward to Infinity Blade's continued success and the next release Epic has in store for us.
source:
Epic Games
via
The Verge