In webOS news, HP settles lawsuit with R&B legend Chubby Checker over a specific app
6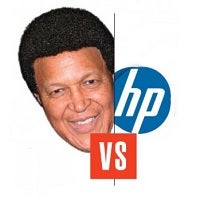 When was the last time we wrote about webOS? That would be many moons ago, after the news of LG buying the platform from HP, and then briefly during
CES 2014 when LG
was showing off what it could do with the OS running a TV.
Since then, we have more or less counted webOS among platforms long gone, and we are not likely to see them on any mobile device anytime soon.
Before HP shut the doors and sold everything to LG, a lawsuit had been filed against the company in 2013 over an app that was available in the webOS app store. The lawsuit was filed by none other than Ernest Evans, also known as, Chubby Checker. The singer gained notoriety for his 1960 hit cover of
"The Twist,"
and the song has been on some type of Billboard list ever since then.
What was the suit about? Well, the app that was available for webOS was called
Chubby Checker.
So, obviously there was some type of trademark infringement. There was no real copyright infringement because, well, Chubby Checker,
the app
, was not about a song. No, Chubby Checker, the app, was about measuring…something.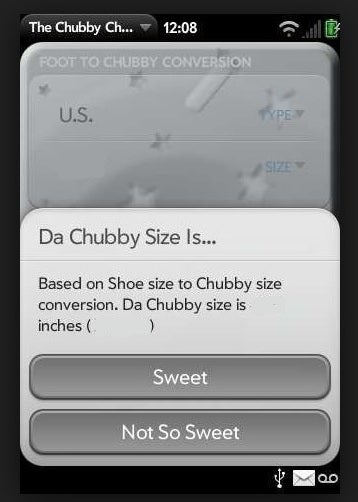 This is what all the Chubby talk was about, the app for webOS (sizes removed to protect, well, someone)
Let's put it this way, you know what they say about a man's shoe size and how that is ostensibly relevant to the length of something else, like
manhood
? That's what Chubby Checker,
the app
, did. Clearly there was nothing scientific about the app, you were not required to upload…
selfies
per se, for any type of real measurement. The app just asked for your shoe size and it gave you the good news (or is it bad news?).
The $0.99 cent application had only been downloaded 84 times before a cease-and-desist demand had HP take the app down in 2012. For its part, HP had only made about $30 off the app. Chubby Checker,
the man
, initially sued HP for
half-a-billion dollars
, claiming that the app also violated the Communications Decency Act. That particular allegation was thrown out of court, but the trademark suit went forward.
No details of the settlement were revealed, no one admits to doing anything wrong, and HP of course agrees to never use any Chubby Checker related likenesses, trademarks, or service marks (probably forever).
source:
Reuters