In-depth test of the iPhone 6, Galaxy S6, HTC One M9, and Nexus 6 settles which is the fastest
86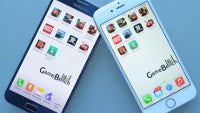 When it comes to performance testing, there are several, let's call them 'schools', of thought. One is that synthetic benchmarks can be ambiguous and are not necessarily representative of real-world performance. Others disregard them as way too arbitrary and meaningless. A string of numbers, nothing more. A third group yet, claims that they can be quite useful when judging performance.
Technically speaking, there's a little bit of truth to all these types of statements. Sure, a benchmark
can be
misleading and ambiguous, and the scores can be quite arbitrary, but only if you don't apply discretion when viewing such results and take them at face value. For the longest time, this has been the case in smartphone benchmarking, and while experts and power users know what they mean and understand their limitations, the general populace has a hard time deciphering them. That's precisely why we've been constantly looking for benchmarking solutions that are both unambiguous and rooted in the real world. GameBench – an app that measures the frame rate at which a device operates when faced with very heavy gaming loads – does just that.
The folks behind GameBench gave us the opportunity to take an early look at the outcome of a new Mexican standoff type versus between the industry's finest – the Apple iPhone 6, the Samsung Galaxy S6, the HTC One M9, and the Google Nexus 6 – on which they've been working on, and the results are likely to mean more to your typical Joe than a score of
56,214
points in this or that benchmark. Conducted using the same kind of methodology employed by specialized computer hardware reviewers, the benchmark scores the devices' frame rate count when running the same games, on the same levels. If you're unsure what frame rate is, and why it matters,
this demo right here makes it perfectly clear why you'd want your device to have more of it
.
Overall, the Apple iPhone 6 proves the smoothest, and achieves an average median FPS of 42, followed by the Galaxy S6 (36 FPS), the One M9 (34 FPS), and the Nexus 6 (34 FPS). This means that, in the case of the iPhone 6, 42 FPS was the commonest rate at which games ran. Another important metric, FPS stability, tells us how often (as a % of the entire test) the device ran at a frame rate that equaled the median, or was close to it. Think of it like this: Low frame rate stability means that the game constantly cycles between low and relatively high frame rates, thus giving you the impression of choppiness.
Before you take a look at the scores, keep in mind that since these tests were carried with the screen on, it means that devices' resolution also played a part. That is, a higher resolution display will naturally need more powerful hardware to drive all those pixels at high enough frame rates. However, it's important to point out that most Android and iOS games actually
do not
run at the devices' native resolution, so don't assume that the Galaxy S6 is times more powerful than the iPhone 6 only because it has several times higher resolution than it and is a close second. The reality is that the resolution in which it renders those games is still greater, but not
that much
greater. Finally, the guys at GameBench are telling us that some of the games are artificially capped at 30 FPS on some devices (like the Galaxy S6), even though they should, theoretically, be able to do better. In other words, it's not all on the phone manufacturers – game developers also have their part to play, as they must ensure that their games run smoothly on a smorgasbord of devices, especially if their platform of choice is Android.
Take a look at the results:
Recommended Stories