In a bizarre twist Steve Jobs' stolen iPad was briefly into the hands of Kenny The Clown, playing the "Pink Panther" theme
8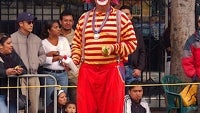 Remember that burglary
Kariem McFarlin did on SJ's house in Palo Alto July 17
that we told you about yesterday? There we learned that among the $60, 000 loot were two iPads that belonged to Steve, and one of them was given to McFarlin's daughter, while the other he gave to a friend.
And that friend was none other but Kenneth Kahn, aka Kenny the Clown, who used Apple's iconic CEO tablet for his clown routine, entertaining the local kids with the "Pink Panther" theme song, as well as Michael Jackson tunes.
Police got back the iPad from him after Apple investigators locked the burglar by his IP address, and Kenny the Clown commented:
It would be like getting a football from Joe Montana that was stolen out of his house. It's bizarre; it's really bizarre. I didn't notice anything special or anything like that. It was silver; it looked normal. I was basically using it like an iPod.
We guess this experience beats for Mr Kahn the times he was a candidate for mayor of Alameda in 2006 and 2010, as well as San Francisco in 2007: "
It still hasn't really 100 percent set in for me. It was Steve Jobs' iPad -- literally,
" said Kahn. "
If this thing weren't so tragic, it would be comical.
"
Recommended Stories