Imagine a bandwidth sharing app to help others, and help yourself at the same time
1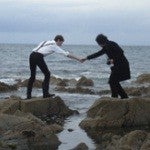 If you are nearing your data plan's limit, or happen to be in a weak coverage (or no coverage) zone, there may one day be an app to help you as well as help others.
Airmobs is a concept designed to link users together and share their cellular connectivity. For example, you are in a building and your carrier's signal cannot get through. Someone else nearby is on another carrier with a usable signal. Both are users of Airmobs, and the app lets you, the user with no coverage, tap into the other's data via Wi-Fi hotspot. Airmobs enables automatic connectivity for users that are able to share and users that need a connection.
Here is the best part, when you allow others to use your connection, the app accumulates credit on your behalf, which you can then use when you are in need to hop on someone else's signal. It is a community centered peer-to-peer tethering on-demand app. It can provide connectivity if roaming poses a cost problem, or if you have used all your data for the month. The app works to barter the time between devices and it is smart enough not to graft you out of your data or battery life.
Airmobs checks the disposition of your device to make sure that you are in a position to share (if you are willing). The app confirms the quality of your connection, battery state and that you are not using your device. If conditions are favorable, it will turn on the Wi-Fi hotspot for others to share (if they are Airmobs users). When you share your connection, Airmobs accumulates credits on your behalf so that when you need to piggy back on another Airmobs user, the app will transfer points you have earned to the person that is sharing their connection with you.
Word has it that the developer of this app, Eyal Toledano, is reluctant to put it on Google Play out of concern over how the carriers might react to it. However, this concept of community-connectivity certainly has merit, and perhaps some basic refining will bring about an app for people to use in the future.
sources:
New Scientist
via
The Verge