Images surface of the Google TV reboot called Android TV
23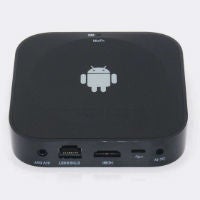 There have been rumors in the past that Sundar Pichai has been pushing a project to reboot Google TV, which has essentially fallen into disuse. Google hasn't been bothering to update the platform, despite promises to do so, and increased competition from the likes of
Amazon
. It seems unlikely that Google would abandon the living room, and now we're getting the first images of what could be the Android TV interface.
The plan is to simplify the experience offered with Google TV, which was ambitious, but didn't always work the way Google had hoped, mostly due to a lack of integration from cable providers. Word has it that Google already has major video app developers working on optimized apps for the Android TV platform, which will also be simplified from traditional offerings. The Android UI will be a simple card layout (of course, it is always cards with Google these days) that will scroll to display various apps and games. Each card will be image heavy, as you might expect, and the app UI is planned to be very consistent from app to app.
The system will support voice commands and notifications, just like the current Google TV, but Google is reportedly urging developers to use notifications sparingly. The remote will feature a Menu, Home, and Back button for navigation. And, there will also be an optional game controller, likely built by
Green Throttle
, the game controller company that Google quietly purchased not too long ago.
Of course, this is still a Google product, which means there will be plenty of work going on behind the scenes. Google wants to be able to recommend and suggest content, as well as allow users to automatically continue watching something that was started on a phone or tablet. One leaked document reads that Google says "Access to content should be simple and magical". This means that it should only take a few clicks or a quick search to get to whatever you want.