If your Apple iPhone 4S breaks while in this case, it will be repaired or replaced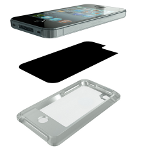 Cellhelmet is confident that its cases can protect your Apple iPhone 4 or Apple iPhone 4S. If your phone should
accidentally break while in the case
during the first year after you've purchased your Cellhelmet, they will repair or replace your phone. This even includes jailbroken models, unlocked units and used handsets. About the only thing that the protective gear maker won't cover is water damage. With the case, you are covered for an unlimited number of repairs within that year. You only get 1 replacement though, for each policy.
it will be replaced all within 3 business days
. Cellhelmet will then send it to you overnight via UPS at their expense. If your phone is replaced, you will have to purchase a new Cellhelmet to continue coverage.
With Cellhelmet all you need to do is register your Apple iPhone 4/4S within 30 days of purchase. Unlike some other insurance policies, you have no monthly premiums to pay. And don't forget,
you're buying a protective case
with a TPU shell and angled edges to help the case absorb the shock of being dropped. The case also comes with interchangeable backplates to protect the glass and to add some customization to the Cellhelmet. While anyone around the world can buy the case, the warranty protection is available to those in the U.S. and Canada only.
source:
Cellhelmet
via
Gizmodo