If unsuccessful, the BlackBerry Priv might be the last BlackBerry smartphone ever
77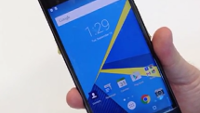 In a panel interview earlier today at the Code/Mobile conference, BlackBerry CEO John Chen made some rather interesting affirmations regarding the company's future.
Chen said that BlackBerry's goal is to sell five million smartphones per year, a threshold that would allow its handset division to reach profitability. Obviously, the upcoming
BlackBerry Priv
, the company's first Android smartphone, is the device that's expected to carry most of the weight.
Based on
BlackBerry's most recent earnings report
, which confirmed that the company only managed to sell 800,000 phones in the second quarter of the financial year, it looks like BlackBerry has high hopes from the Priv.
If the company doesn't meet this goal, Chen said that it wouldn't be unthinkable for BlackBerry to exit the smartphone market. In other words, if the BlackBerry Priv turns out to be unsuccessful, then it could well be the last BlackBerry smartphone ever. If that turns out to be the case, then BlackBerry could move on to focus on its business as a provider of security technology for other platforms, such as Apple's iOS or Google's Android.
Speaking of the BlackBerry Priv, the handset will run Android, but the iconic smartphone maker will also bake in some of its security technology. Interestingly, John Chen also mentioned that his company's mobile security technology matches Samsung's Knox in terms of features. However, the BlackBerry CEO believes that the Priv will outpace other devices when it comes to battery life, antennas, and text input (thanks to the phone's slide-out physical keyboard).
Although it might seem like the BlackBerry Priv is aimed at enterprise users due to its security features, Chen said that this is not the case. Instead, the BlackBerry Priv will be a product that aims for the high-end sector of the smartphone market. The BlackBerry CEO also said that you'll be able to buy the Priv directly from all four major carriers in the US.
Chen's comments on the future of the BlackBerry smartphone business come just a few days after the Sony CEO announced that
his company might stop making smartphones
if 2016 doesn't mark a comeback to profit for Sony's smartphone division. That's an odd coincidence, don't you think?