Icahn speaks to Cook, wants Apple to buy back shares
19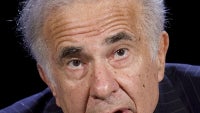 According to the Wall Street Journal, investor Carl Icahn owns over
$1 billion
in Apple stock and could be ready to shake things up at Cupertino. In the 1980's, the mere mention that Icahn owned a position in a company was enough to send the stock surging higher in anticipation of a takeover bid. On Tuesday, that scenario repeated itself as a tweet from Icahn about building a stake in Apple sent the stock up 5% for the day.
Apple's shares have fallen sharply since peaking at slightly over $700 a share on the day that the
Apple iPhone 5
launched. Now,
Apple's board is said to be concerned about the lack of innovative new consumer products
being launched, and competition from Samsung in the smartphone business. And while Apple is expected to launch the Apple iWatch,
delays have pushed back the release of the device until next year
. Meanwhile, Samsung is expected to show off its Samsung Galaxy Gear smartwatch as soon as September 4th in Berlin.
"This is bad for Apple. They don't need any distractions (while trying to) regain their market share lead in phones. I expect Icahn to run a play similar to Dell, where he is questioning how Apple uses their cash and how they are making decisions."
-Patrick Moorhead, analyst
While Icahn clearly doesn't have the wherewithal to purchase Apple himself, his MO is to shake up and cajole the board and executives until they make the changes that he believes will lead to a higher stock price. Recently, the investor has been sending out tweets to Dell explining his opposition to founder Michael Dell's plan to take the company private. His idea for Apple is to let the company use its gilded edge credit rating to borrow money at 3% and use those funds to
buy back chunks of the stock
at $525. Buying back the stock lowers the number of shares outstanding and raises the earnings per share figure that many investors use to value a company. Even with no earnings growth, Icahn sees Apple rising back to $625.
"This is a no-brainer to go buy stock in a company that can go borrow. Buy the company here and even without earnings growth, we think it ought to be worth $625."
-Carlk Icahn
While this is bad new for Apple executives, it should be good news for Apple stockholders as Icahn has a habit of adding value to stocks. Just make sure you exit before he does, because once the word is out that he is out of a position, the shares usually drop. Icahn did have a talk with Apple CEO Tim Cook, a conversation that Apple spokesman Steve Dowling called "very positive". The investor said that he hopes to talk with Apple and Cook again soon.
source:
WSJ
via
USAToday