ITG xpPhone brings Windows XP to a smartphone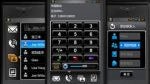 ITG (In Technology Group) has been toying with the idea of a
Windows XP
smartphone for almost two years, and is finally putting their xpPhone on the market. The xpPhone brings the embedded version of Windows XP to a large, 4.8-inch 800x480 touchscreen device with a slide-out QWERTY keyboard.
Besides the fact that this runs Windows, the xpPhone is remarkable for it's keyboard. It's not only a 'full'
QWERTY
, it also has a separate numerical keypad on the right, as well as buttons that correspond to the left and right mouse buttons. Before you reach for your wallet, you should know that this retails for $798 (3G), $732 (no 3G), and $666 (no 3G, DOS instead of Windows).
The xpPhone's size makes it nearly a tablet. It is 25.5mm (1 inch) thick, and weighs 400g (14.1oz). To power this awkward device, it uses a 2150mAh battery that delivers a reported 5 hours of talk-time and 5 days of standby. It supports 802.11b/g Wi-Fi, Bluetooth 2.0, GPS, and both CDMA and GSM networks.
The xpPhone is powered by an
AMD
Super Mobile CPU, has 512MB of RAM, and is available in 8GB, 16GB, and 32GB models. It also has ports for VGA output, a standard USB (not micro), and a 3.5mm headset jack. We aren't exactly discouraging you from getting this, but we know the form factor alone will deter you. With a device this size, you might as well go for something like the
Dell Streak or Samsung Galaxy Tab
, and squeeze out a little more battery life and practicality.
source:
ITG
via
Engadget