INQ CEO: The cool kids in town have an iPhone or BlackBerry, Android is for geeks
65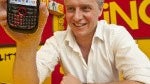 It's not very often that we see a manufacturer of an Android phone bash other manufacturers of Android phones, basically telling them that they have no idea what the general public wants, and that Apple and BlackBerry are, like, so much better for the cool kids.
But that's exactly what INQ CEO Frank Meehan has told Mashable:
"If you go to a nightclub in any city in the world, the pretty girl has an iPhone or a BlackBerry. She doesn't have an Android phone. She has no emotional attachment to an Android phone. It's too complicated. It's a geek device, it's all wrong."
He goes on:
"Android manufacturers are all just focused utterly on the tech, because they're all hardware guys. They don't get software. They've tried to outdo Apple with hardware, but the problem is the customer doesn't care. The Samsung Galaxy has done pretty well, but it's just price-driven. It's not desire-driven. There are no lines out the door to get a Galaxy. They've done all this work on branding, but the name doesn't mean anything to consumers. It's like calling a phone 'Alpha Centauri' or 'Uranus'."
Is Android only for geeks?
source:
Mashable