IEC approves the first universal smartphone charger
2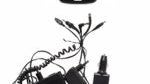 Every time you get a new phone, you have to buy a new car charger and maybe an extra wall charger to go along with it. You probably have a special drawer full of old chargers, phones, cases, etc. Well, the IEC (International Electrotechnical Commission) has approved the first
universal smartphone charger
, based on microUSB. That means that the next charger you buy could be your last (but in a good way).
IEC General Secretary and CEO Ronnie Amit said that "This is something millions of consumers have been waiting for. I am proud that the IEC has managed to get the best possible technical solution in record time to the market." The IEC standard defines the connector, the plug, safety standards, interoperability, and environmental sustainability. It was built using the input from OEMs like Apple, Nokia, RIM, Huawei, LG, Motorola, and Samsung.
According to GSMA, 51,000 tons of irrelevant chargers are manufactured each year. Imagine if we could eliminate that waste by using the same charger, phone after phone? A universal charger wouldn't just yield environmental benefits. Manufacturers would benefit from lower costs, offering the charger as an option, which would save you money.
source:
IEC