IDC graph tracks Samsung's rise and Nokia's decline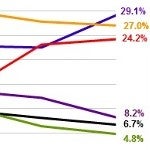 If a picture is worth a thousand words, there are probably a few thousand words you are saving by looking at the graph and the chart accompanying this story. From the first quarter of 2011 through the most recently completed first quarter of 2012, Samsung's share of the global smartphone business has soared from 11.3% to the leading 29.1% that the Korean manufacturer now owns. Of course, it is no surprise that the
Samsung Galaxy S II is responsible for much of this striking jump
that has moved Samsung from fourth among the top five OEMs, to number one. Not only was the device wildly popular across the globe, it has everyone anticipating amazing things for the sequel
which is expected to be introduced in a matter of days
.
Skipping past the conglomerate labeled "others" which is a combination of those manufacturers with marketshares outside of the top five, the next manufacturer after Samsung is Apple. The manufacturer of the Apple iPhone
has had a more gentle rise
than Samsung with its slice of the pie growing from 18.3% to 24.2%. Back in the first quarter of 2011, Apple trailed just one company when it came to smartphone shipments. That company was Nokia.
The Finnish firm has suffered a free-fall
as its share of the world-wide smartphone market has plunged from 23.8% to 8.2%.Can the well-received Nokia Lumia line turn around the company's fortunes? That is still to be determined.
Another desperate smartphone manufacturer
that has lost more than half of its global marketshare
is RIM. From controlling 13.4% of the market in the first quarter of 2011 (and incidentally, holding more of the market than Samsung at the time) RIM now owns 6.7%. The Canadian manufacturer's BlackBerry World Conference kicks off today with developers getting their hands on the new BlackBerry 10 OS which is now looked upon as RIM's last hope to compete in the business.
reducing the number of new phones it will offer and focusing on quality
. This is apparent in the new HTC One series which has recently been launched.
What will this graph look like in another year? Will Samsung remain on top? Can Apple grab the crown? Is it possible for Nokia and RIM to rebound? we will just have to wait and see how the next few quarters unfold in the global smartphone industry. For many, the big battle coming is between the
Samsung Galaxy S III and the Apple iPhone 5
. According to IDC's senior analyst Ramon Llamas, "
With other companies in the midst of major strategic transitions, the contest between Apple and Samsung will bear close observation as hotly-anticipated new models are launched
."
source:
IDC
via
AndroidAuthority