IBM researchers place a bit of data on just twelve atoms, phones with 1TB storage a few years away
5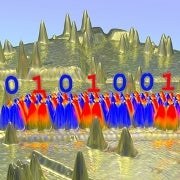 IBM researchers demonstrated once again why the company one of the most revered names in tech, and why it is still the most successful of the computer company dinosaurs, despite last year celebrating its 100 years in existence.
Andreas Heinrich, a lead investigator in atomic storage at the IBM Research labs in California, told the journal Science, that his team has managed to place a bit of data (you know, the 0s or 1s that are the building blocks of information) on
just 12 atoms
. In comparison, modern hard disk drives about a million atoms for the same thing.
Analysts say that this achievement can land in devices within the next five years, and will lead to mobile device storage that fits 1TB on something the size of a pinhead (hello, Samsung Galaxy S VIII and
iPhone 10
), while a flash drive with the tech could store every movie you can think of, and in high definition at that. The findings will be published today in the journal Science.
source:
IBM
via
MSNBC