I see your game controllers and raise you an invisible one!
6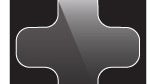 Age is of no matter when it comes to games, and the guys from Obinova are a vivid example. Annoyed by the clumsy control that current generation touch screens provide, they are attempting to "bridge the gap between mobile gaming and console gaming". Ladies and gents, let us introduce you to the Invisible Gamepad!

Basically, the whole idea is to have a smooth transparent film with turgidity outlines, shaped as analog and digital pads plus buttons. Those who find the idea appealing can join the Kickstarter project, with pledges starting at $6. Obinova is hoping to get $7000 so they can get the project going and their intent is to sell it in stores for $16. People who have donated more than $16 will be receiving their Invisible Gamepad in August, while the rest of the gaming community will be able to enjoy sensible gaming in October.