Humor: Where Facebook really wants to take its new listening feature
10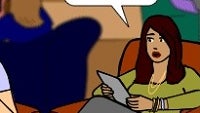 A couple days ago,
Facebook announced
a "new, optional way to share" on the super-sized social network. It is basically an evolution of the emotion, or feeling, feature that you can use when posting an update on your timeline.
According to Facebook, over the past year that those emotion tags have been available, more than 5 billion status updates have been shared using those feeling markers. Soon, the Facebook apps for iOS and Android will have the ability to use your mobile device's microphone.
Facebook will introduce a new feature to its mobile app where, with your permission, it will listen to what is around you using your device's mic while you compose your update. Basically, the app is listening for music or the sound of a TV show (such as when you share an update while watching
The Walking Dead
). Then with your update, it will add information about the song being listened to, or the TV show you are watching.
In its announcement, Facebook makes it pretty clear that not only will you have to opt-in to use the feature, you will have to give the app a second permission to use it each time. The app will only be able to identify music or TV sounds,
and
that is all the app will do,
and
no data is stored. Plus, you can decide who sees the content that accompanies your post.
Technology doesn't stand still however, and you have to admit, it really is just a matter of time before voices are identifiable, and once a computer knows a voice, it can certainly learn what it's saying. Remember, just because you're paranoid, doesn't mean they
aren't
out to get you.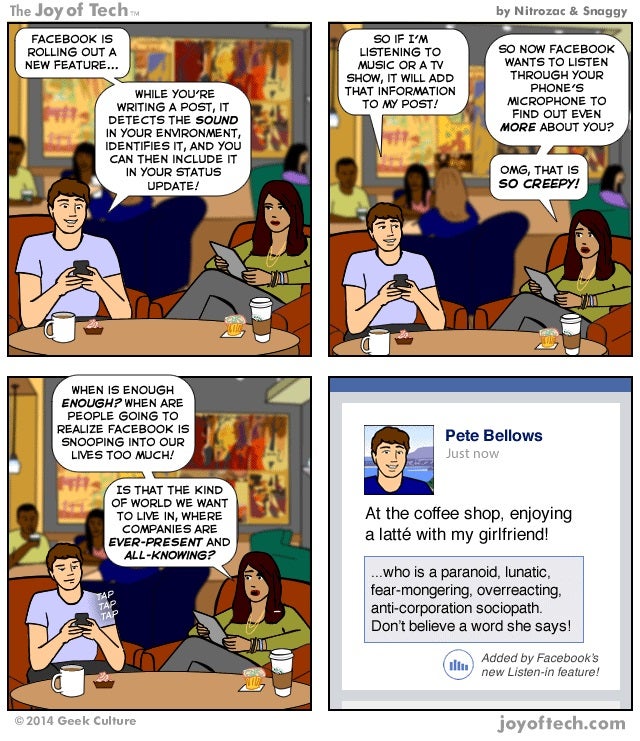 source:
The Joy of Tech