Hulk, smash! Avengers Initiative hits iOS and Android
8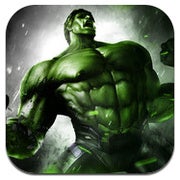 Avengers Initiative – a 3D action-packed video game that
Marvel kind of revealed just a few days ago
, is now available for download on iOS, and will go live on the Play store for Android devices in the coming hours. As expected, The Hulk is the game's protagonist, which is a guarantee that there will be lots and lots of smashing going on.
In a nutshell, the plot is as follows: every super-powered criminal in the country has been released, and it is up to you to stop every single one of them. While fighting the bad guys, The Hulk will level up, and new equipment will be made available. The list of villains that you will have to track down and battle includes Wendigo, Abomination, Kronan, and more. Moreover, Marvel promises to expand the story line and release additional content in the near future.
Marvel proudly states that Avengers Initiative is its biggest mobile game yet, with impressive HD visuals, and controls built especially for touch screen devices, and for $6.99, we wouldn't be expecting anything less than that. If the game sparks your interest, feel free to watch the trailer below, or just follow one of the download links and get it for your mobile device. Avengers Initiative is compatible with the iPhone 4, iPhone 4S, iPad 2, the new iPad, and select Android devices. Note that the Android download link may not work yet, but it is expected to go live pretty soon.
source: Marvel