Next Marvel video game will feature The Hulk as protagonist, destruction guaranteed
3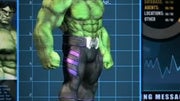 Are you one of those geeks who had a Hulk pajamas as a kid? Then chances are you will be interested in Marvel's upcoming mobile video game. This short teaser video was posted on YouTube and the Marvel Facebook page, suggesting that the Incredible Hulk will be the title's protagonist.
There isn't much revealed about the game's storyline, yet for a brief moment, a Hulk-sized Iron Man suit appears at the end, which is enough to spark our interest. We can also safely assume that there will be plenty of smashing, knowing how brutal The Hulk can be when it comes to fighting the bad guys.
And that is pretty much all we know so far. Which platforms the game will be released on is not yet clear, but we hope that both iOS and Android are on the list. Now feel free to watch the short video below and try guessing what the game will be all about.
source: Marvel