Huawei goes on the campaign in NYC to teach people how to properly pronounce its name
21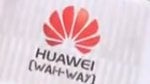 In the last year or so,
Huawei
has been making a name for itself throughout the world, as they've been aggressive in pumping out some quality smartphones. However, even to this day, there are people who seemingly can't grasp the proper way of pronouncing its name.
Then again, who can blame them? Honestly, just looking at the word Huawei can make the average Joe toil in wonder as to how to pronounce it – and even worse yet, not everyone comes to the definitive conclusion on how to say it. Well people, Huawei is on the campaign to tell people how to say its name – properly!
At the crossroads of the world, Times Square in New York City, a spokesperson for Huawei asked some bystanders if they're able to pronounce Huawei. Naturally, there are a ton of variations given, but not a single one was able to say it in the correct way. For those who are wondering, it's actually pronounced "
Wah-way
."
So yeah, it's nice and all that Huawei is spreading the word on how to pronounce its name, but for the people that were interviewed, most of them were clueless as to what they do. Specifically, some of the guesses include being a car company, selling flowers, an airliner, or some kind of a small island. Luckily, one random individual managed to hit the spot in identifying them as an electronics manufacturer. Oh Huawei! It's nice to see they're educating the American public in how to say its name.
source:
YouTube
via
Android Central