Huawei P9 gets torn down, dual camera and sneaky flex cable are exposed
8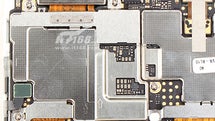 With the new
P9
, Huawei took the dual camera premise to a whole new level, introducing two Leica-certified modules of equal resolution. The phone boasts two 12 MP units with 2.2 aperture, co-engineered with the company that is known for its high-quality cameras and optics.
In essence, one of the modules takes color images, while the other shoots monochrome photos. The two images are then merged intelligently in software to produce a photo combining the colors of the regular sensor with the detail of the black-and-white one.
Well, the first teardown of the Huawei P9 is here, and if you are curious how the phone looks from the inside, including the dual camera engineering, you can take a peep in the slideshow below. The two-bit module is clearly visible, and there is a crazy snake-like flex cable for the fingerprint scanner inside, too, so head over to this geeky strip show to see what makes the unique Huawei P9 tick.