Huawei MediaPad M5 and M5 Pro Hands-On: Are Android tablets on the comeback?
2
We're here live at MWC 2018 and today we have a product announcement from the likes of Huawei. Since we've been spoiled with recent phone releases, today was about other mobile devices - specifically tablets. Introducing the Huawei MediaPad M5 series.
Huawei's MediaPad M5 series will come in a trio of options: 8.4 inches, 10.8 inches, and a 10.8-inch Pro edition - all under the MediaPad M5 name. We had some personal time with the devices to see what Huawei's put together here.
Design and Display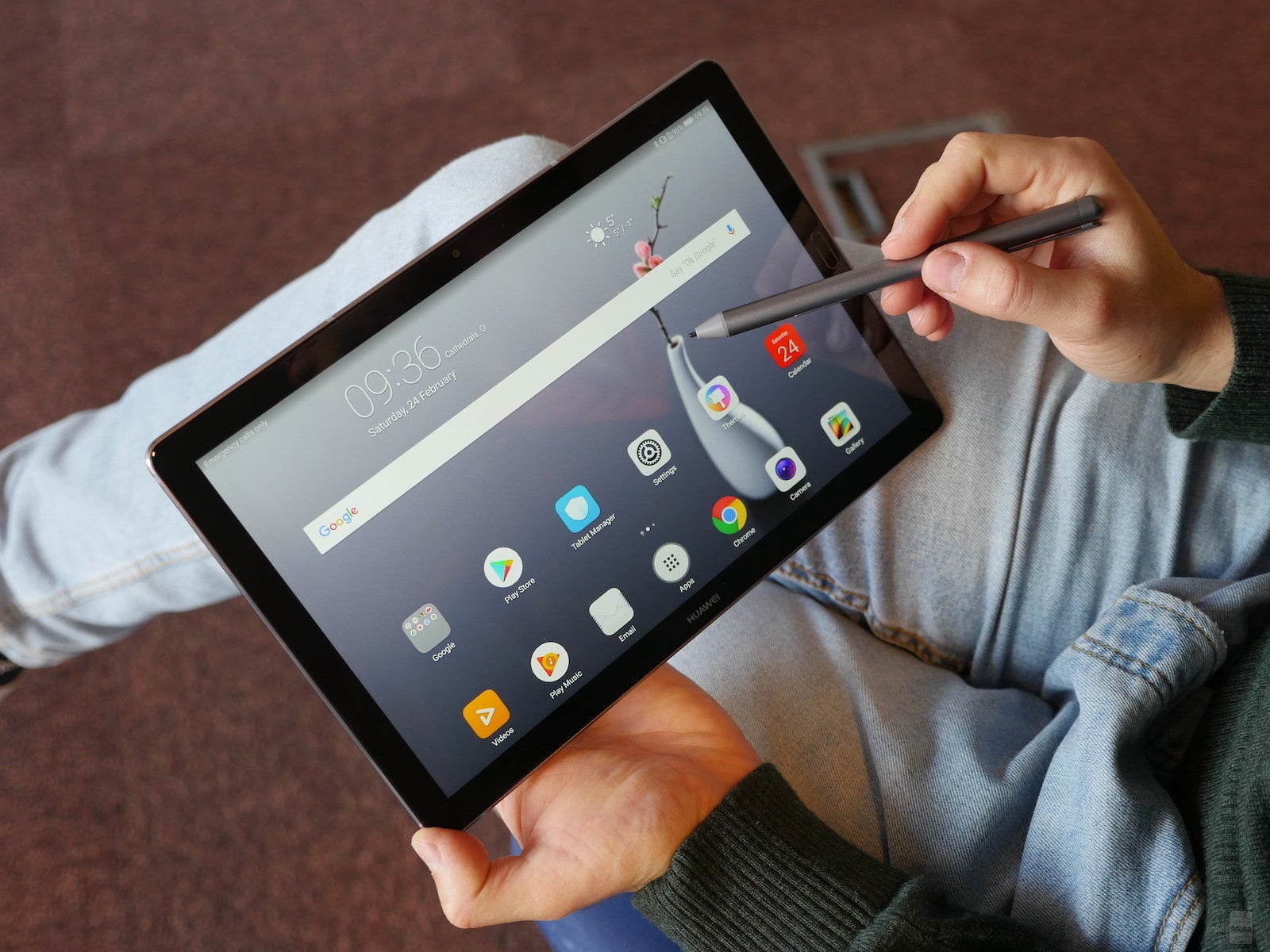 The MediaPad M5 series uses 2.5D curved glass up front, and under it lies the either 8.4 or 10.8-inch IPS display, pushing a resolution of 2560 x 1600 for all three. The display's bright and colorful, while also portraying the typically good viewing angles seen from IPS technology. Below the display lies the fingerprint sensor - something we almost took for granted on a tablet that is, above all, a personal device.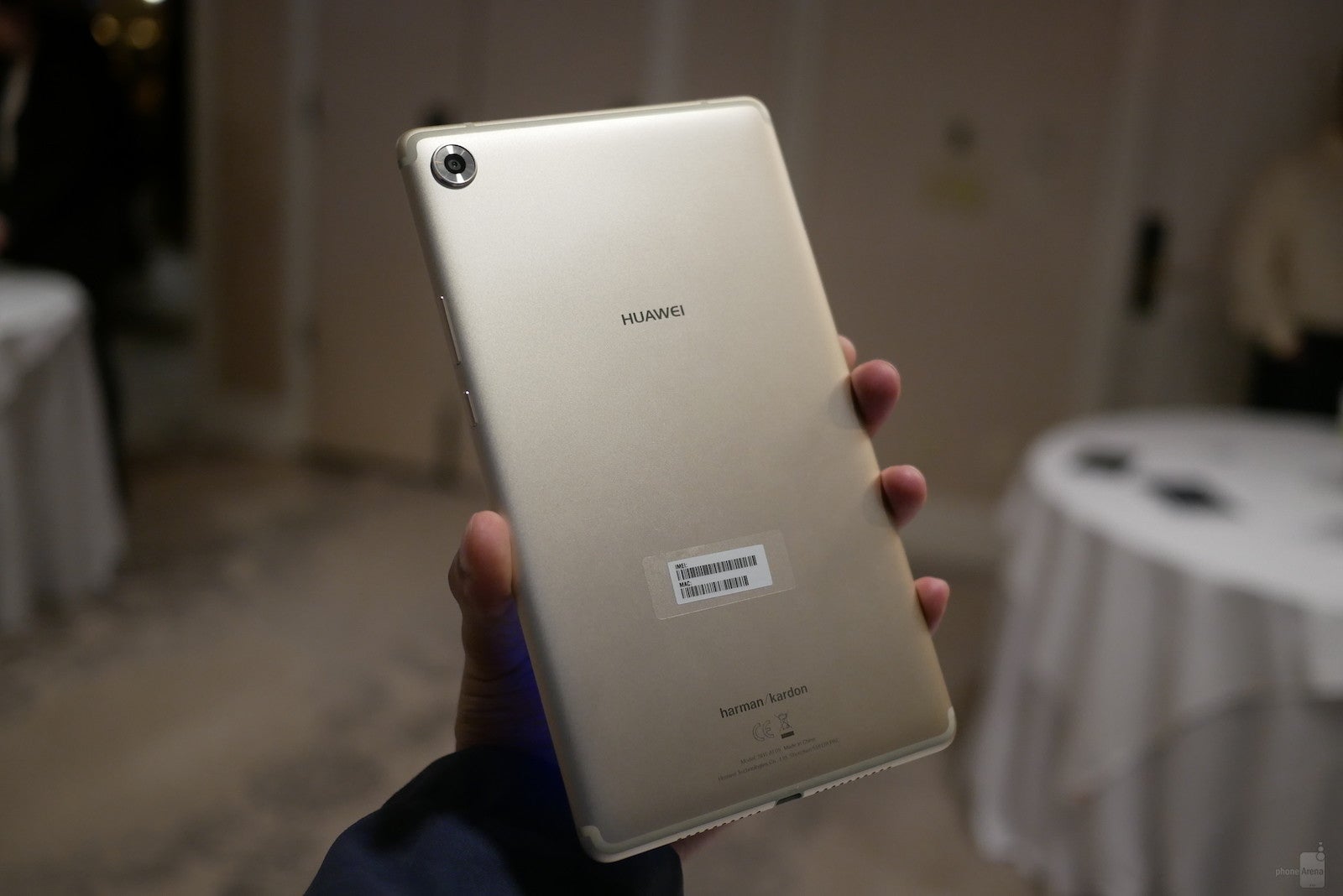 Around back you'll find sand-blasted aluminum in either Space Gray or Champagne Gold. Antenna lines run along the sides and give way to reception for Huawei's patented U-shaped antennas. At the bottom of the back-piece is a line of holes functioning as the speaker grill for the Harman/Kardon speakers packed inside; the 10.8-inch has four, while the 8.4 has two - both support high-res audio and seem to get decently loud. The 10.8-inch versions also have a set of pogo pins, placed between the speaker grill, to facilitate the connection of third-party peripherals like keyboards. All three models are equipped with 8 MP front-facing, and 13 MP rear-facing cameras, as well.
Processor and Storage
The chipset running these devices will be Huawei's flagship SoC of yesteryear, the Kirin 960, paired with 4 GB's of RAM. This was, and still is, quite a capable piece of silicon and an ample amount of RAM, so we have few worries as far as performance goes; our time with the device showed quick navigation and fluid movement, as expected.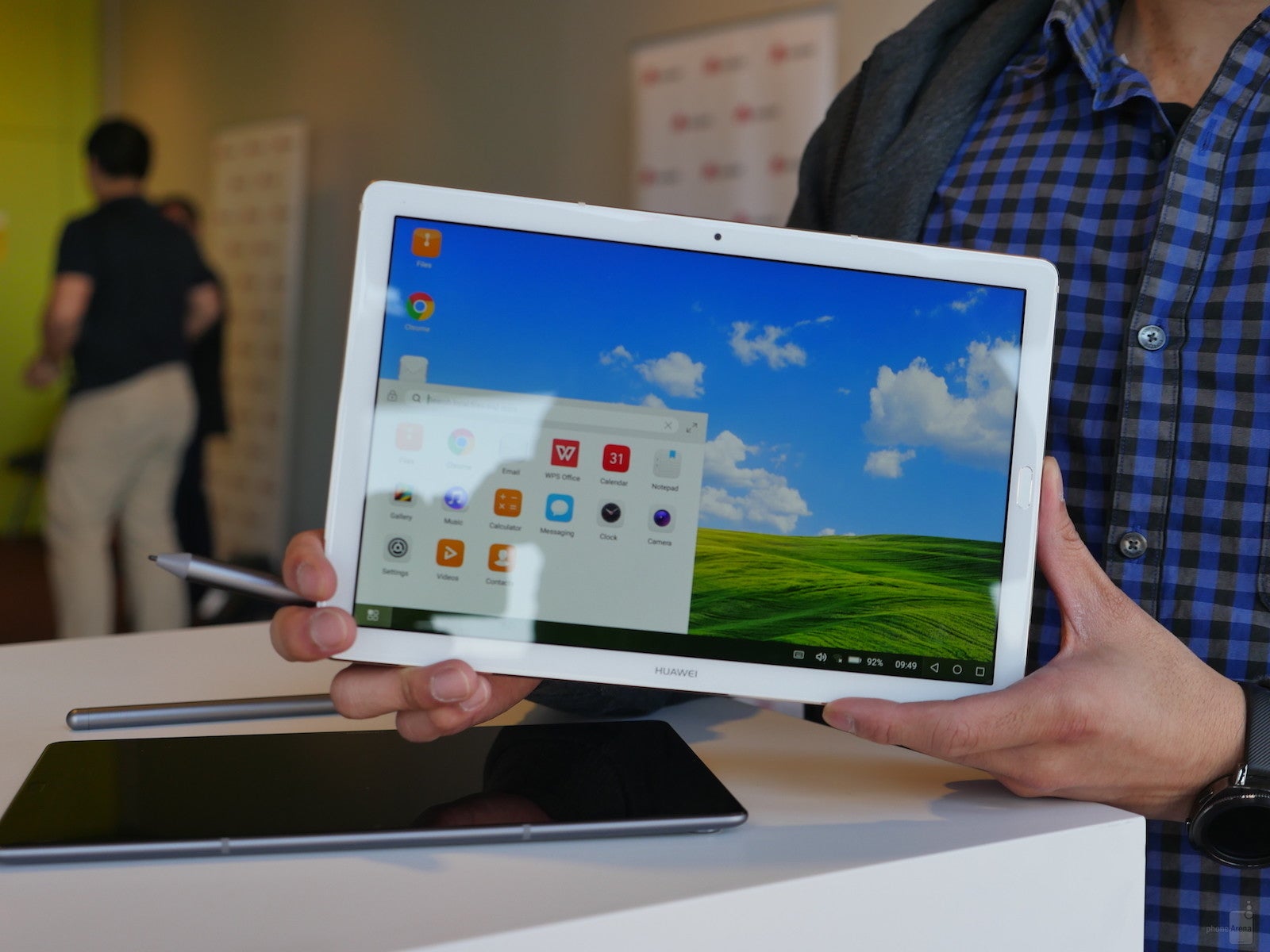 Android Oreo 8.0 comes loaded, along with EMUI 8.0 for the most up-to-date, though not particularly aesthetically pleasing user interface. The 10.8-inch models will have a sort of PC-like element, though. Desktop View, which adds a taskbar and quick access to files, is a welcome addition which should aid productivity and ease of use.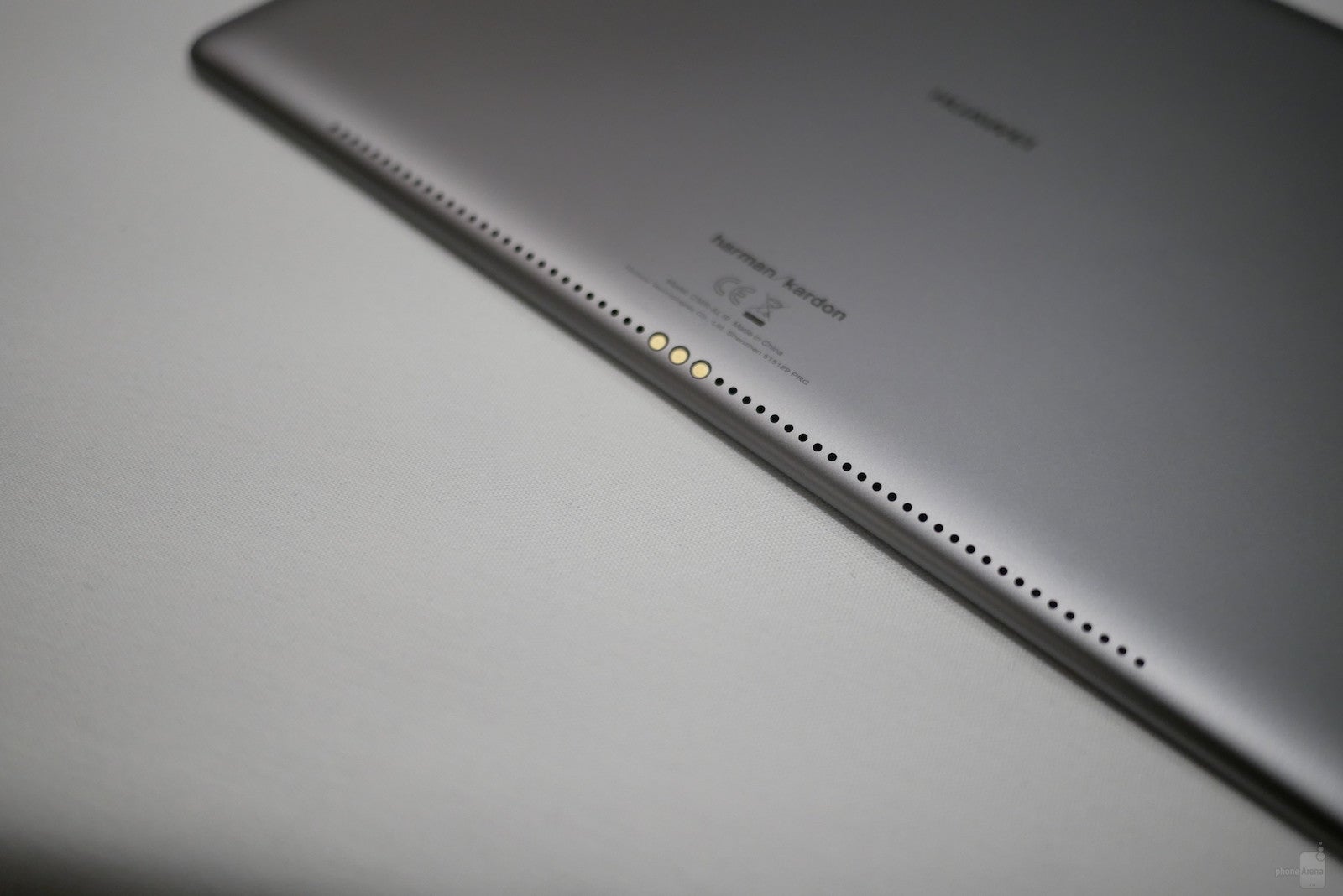 In terms of configurations, the 8.4-inch MediaPad M5 and 10.8-inch regular M5 will come in 32, 64, or 128 GB's, while the 10.8-inch MediaPad M5 Pro will only offer 64 GB's in the U.S. and 128 gigs in China. All models accept MicroSD cards up to 256 GB's though, which should satisfy even the biggest media consumers out there.
Pen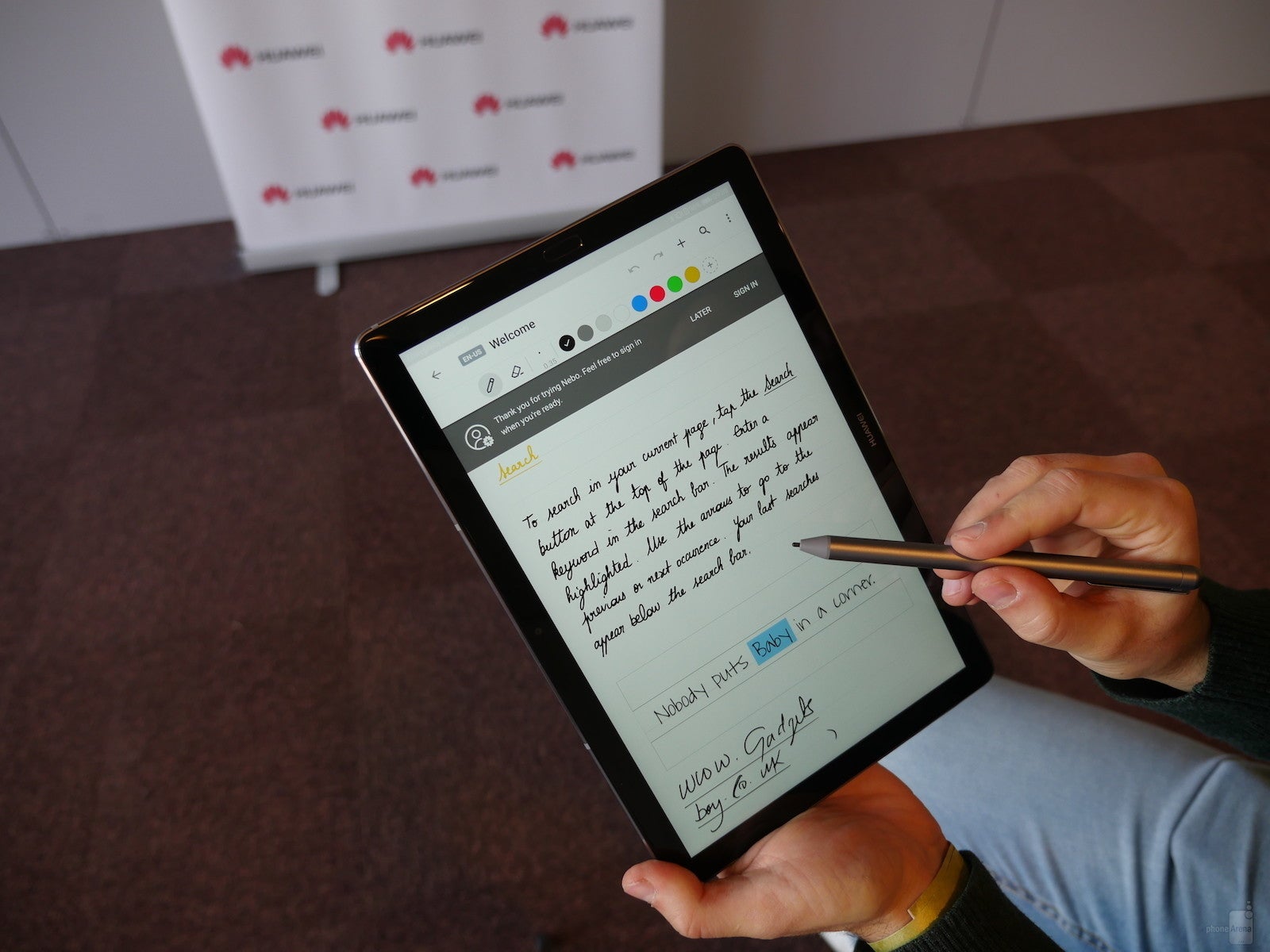 Huawei's also releasing a digital pen compatible with all three devices. Dubbed simply, "the Mate Pen" this peripheral offers 4096 points of pressure sensitivity, which allows for shading, stenciling, and a generally expressive, and realistic writing and drawing experience. The Mate Pen will be sold separately, but comes with the Pro model as an included accessory. The Pen itself is charged via USB-C.
Connectivity
Each model of the Huawei MediaPad M5 will have Wi-Fi-only and LTE variants, as well as Bluetooth 4.2 on-board.
Battery
The 8.4-inch MediaPad M5 packs a 5100 mAh battery, rated at 11 hours of use, while the two 10.8's step up to 7500 mAh and 10 hours of use. USB-C charges these Quick Charge-enabled devices.
Pricing and Availability
Starting at €349 for the 8.4-inch, 4+32GB, WiFi-only model, prices increase by €50 each step up in storage; €399 for 64 and €449 for 128 GB's. LTE versions start at €399 and follow the same pricing structure for storage step-ups. The MediaPad M5 10.8-inch starts at €399 for the 4+32GB, WiFi-only model, with €50 step-ups as well, while the LTE version starts at €449. The 10.8-inch MediaPad M5 Pro goes for €499 and €549 with 4+64GB, Wi-Fi-only and 4+128GB WiFi-only, respectively. Lastly, the LTE-enabled Pro version retails at €549 for the 4+64GB model, and €599 for 4+128 GB's.
Expectations
It's nice to see manufacturers still putting some effort into Android tablets, and although pen support is nothing new, it's still good to see. Loud crisp speakers, a bright colorful screen, and LTE compatibility should make any mobile tech user happy. But has the time of Android tablets simply passed? Or can releases like this one eventually lead us somewhere new and exciting again?