Huawei MateBook hands-on for the US launch
13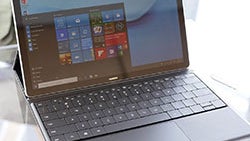 Smartphones have put into our minds a taste for extremely compact devices that deliver unsurpassed computing power, so it's little surprise that our desire for eminently portable, functional hardware has spilled over into larger form factors. As a result, the market for 2-in-1 hybrid devices, combining the slender build of a tablet with the processing might and convenient keyboard input of a full-fledged laptop, is postivively blowing up right now. Huawei's looking to get in on that action, and this week the company took the first steps in bringing its
MWC-announced MateBook 2-in-1
to the US.
Yesterday
we shared with you the details of the MateBook's US debut
, as pre-orders open ahead of July 11 availability. And while you might know all the technicals of the hardware's release, what's it like to actually go hands-on with the MateBook? We stopped by Huawei's US launch event to find out.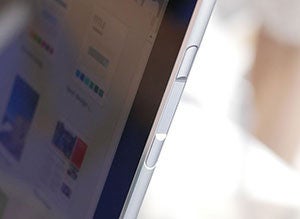 A side-mounted fingerprint scanner keeps the MateBook secure
As you've heard, the tablet measures just 6.9mm thick and weighs about 1.4 pounds. While that's seriously light for a 2-in-1 this size, the MateBook still feels really sturdy, with a satisfying amount of heft to it – but not so much to put you off. Keep in mind, though, that figure is for the tablet alone, and you're absolutely going to want to carry this guy around in its portfolio keyboard case, which adds both weight and thickness (to say nothing of price) to the equation.
By contrast, the MatePen active stylus almost feels
too
light. It's feature-packed, with two buttons, 2048 levels of pressure sensitivity, and a red laser pointer on its rear end, and while it's slightly thicker than a typical pen, it doesn't weigh appreciably more.
We also took a look at the MateDock, which plugs into the MateBook's sole USB Type-C port to offer users extra USB ports, display-out, and an Ethernet jack. Huawei provides a handsome leather-looking case for the dock (which also includes storage for a small USB cable and adapter), but between the tablet itself, the keyboard portfolio, the stylus, and now this dock, you're looking at a fair amount of hardware to carry around for the full MateBook experience.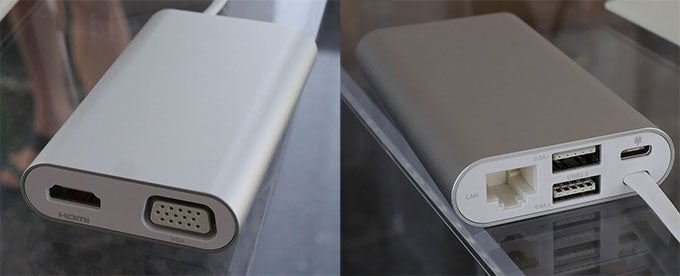 Full connectivity options are just an accessory away
Our brief interaction with the MateBook's software revealed a crisp Windows 10 implementation free from extraneous software – a welcome consequence of the Signature Edition Microsoft's offering.
We'll be spending a lot more time with the MateBook in the days to come; for now, enjoy these hands-on pictures and our video first-look at the tablet's path to its US release.