Huawei Honor 7 backplate leaks out, hinting at a metal build and finger scanner
6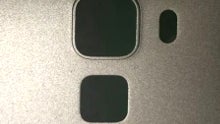 Huawei's
Honor 6
was one of the best kept secrets for its price tag when it launched last year, and now the company is apparently prepping a sequel, which will be in sync with its current premium design philosophy. The
Honor 7
looks like it will be made of metal, but might sport a larger screen, compared to the Honor 6, judging from the leaked photos.
The eventual Honor 7 is said to also sport a fingerprint sensor on the back, like the
Mate 7
- something that the newly-announced
P8
flagship doesn't have. The backplate of the Honor 7 has leaked out now, confirming what could only be a fingerprint reader, as well as the premium metal build. There will be another Honor in the family, too, an eventual successor to the Honor 6 Plus, which has a dual-camera setup for intriguing depth of field perception shenanigans.
Both probably won't be hitting before the summer, but in the meantime we can expect plenty of leaks, filling specs around the inevitable 5.5" screens, Kirin 930/ 935 chipset, 3 GB of RAM, and Android 5.0 Lollipop, skinned with Huawei's Emotion UI.