Huawei GX8 hands-on: Too little, too late?
1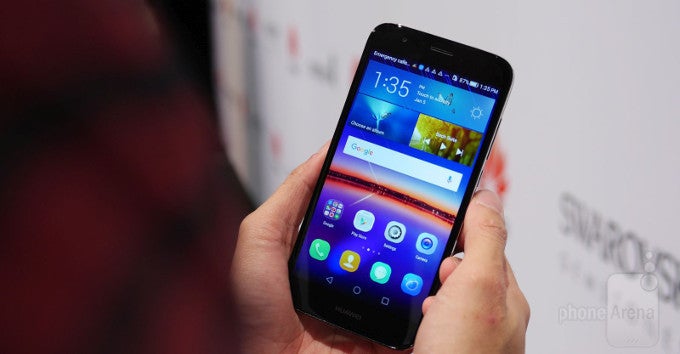 When it comes to Chinese makers, the old paradigm seems to still be in full force: great specs for little money, but little to no chance of spotting most any of them value-for-money phones stateside. For the umpteenth time, Huawei tried to reassure the media that its expansion into the US is a priority, however, and offered the mid-range GX8 as proof. There's a catch, though: the GX8 is actually the
G8
that we took for a spin back in September at IFA 2015. Not only that, but the regional US model is even a bit less impressive, with a less enticing specs sheet.
Let's revisit what it's all about, and if it's still adequate some 3+ months later.
Design
With its aggressively rounded rectangular looks, the GX8 is decidedly benign-looking. Ninety percent of it is made out of metal, though, and it's overall a very likable design. Sure, it shares a lot of the language used with the higher-end Mate line, but it has an identity of its own. In terms of ergonomics, the arched back of the device helps with your grip, and in concert with the sloping glass used atop the display completes the overall round looks of the device. The rear is also where you'll find the square cutout for the fingerprint scanner.
At 5.98 x 3.01 x 0.30 inches (152 x 76.5 x 7.5 mm) and 5.89 oz (167 g), the Huawei GX8 isn't exactly the most compact of devices out there, nor the most lightweight. But it is fairly thin for its class, and as you'll find out if you keep on reading, its slim profile doesn't command any sacrifices—save for them thick bezels all around.
Display
Underneath the aforementioned sloping glass is a 5.5-inch panel with a resolution of 1080 x 1920 pixels—good for a density of 401 ppi, or more than enough for most people. This being a mid-ranger, however, meant that Huawei had to cut some corners, so we're actually looking at a TFT LCD panel, which are have become kind of rare. All things being equal, TFTs typically tend to offer poorer viewing angles—among other things—when compared to IPS technology.
Having had no opportunity to actually measure the screen, we wouldn't dare draw any conclusions in terms of color calibration, especially with show floor lighting shining over the panel. If and when we get a GX8 review sample, we'll have more to talk about here.
Interface
Like many recent device announcements, Huawei's GX8 one is no different in terms of actually offering the latest Android build available: 6.0 Marshmallow. Instead, the GX8 runs on the year-old Android Lollipop stack, with the company's proprietary EMUI 3.1 plastered on top. Given its mid-range status, this is probably a non-issue, but a disappointment nevertheless—at least from a techie's perspective.
In any case, Huawei's EMUI skin has proven time and time again as an ambitious one, with a truckload of extra functionality sprinkled on top of stock Android. Standout features include integration of a theme engine for powerful customization, rich gesture support that includes Knuckle 2.0 (draw gestures with your... knuckle) and swipe-sensitive fingerprint scanner, and just a ton more. Truly, if additional perks are your thing, EMUI 3.1 will be right up your alley.
Processor and memory

For whatever reason, Huawei has chipped away at the specs of the GX8 when entering the US market, though it's just the memory side of the sheet that suffered. So we still have an octa-core, 64-bit Qualcomm Snapdragon 615 (MSM8939) system chip with an Adreno 405 GPU driving the show, but 2 instead of 3GB of RAM, and 16 instead of 32GB of built-in storage. Memory expansion, at least, is still possible through a microSD card.
In our experience with the phone, the SD615 is a bit hard-pressed to keep up with the demanding EMUI skin at 1080p, though in-app and in-game performance is decent overall. Still, a shame that Huawei didn't keep the specs intact—the GX8's US entry was already long overdue, and lowering the value proposition won't help.
Camera
On paper, the main camera on the GX8 stands out, especially when considered in a mid-range context. We're looking at a sapphire glass-protected, 13-megapixel RGBW unit, complete with a dual tone LED flash, wide
f
/2.0 aperture, and optical image stabilization (a rarity in this segment!).
The RGBW part, in case you're wondering, supposedly helps increase brightness in high-contrast images by over 30%, all the while lowering color noise by nearly 80% in low-light situations. In concert with the aforementioned wide aperture and optical stabilization, the GX8 is, in theory, well-positioned to rule the low-light race within the mid-range kingdom.
For selfie maniacs, Huawei is offering a 5-megapixel front snapper with the GX8.
Expectations
Huawei promised to make the GX8 available by the end of Q1 through direct channels including its own GetHuawei.com outlet, and Amazon. Considering the slightly less impressive specs sheet, and the possibility that the release drags on until the end of March, this could mean that the GX8
might
arrive some six months after its announcement back at IFA 2015. But even in a best case scenario, the GX8 will have a hard time convincing consumers that it's a better buy at $350 unlocked than competing solutions such as Motorola's $399 flagship, the
Moto X Pure
, or even the $389
OnePlus 2
.
Too little, too late, as they say.