Huawei CEO: since the S4 is a 'so-so smartphone' and Apple is 'slipping,' we can be third by 2015
99+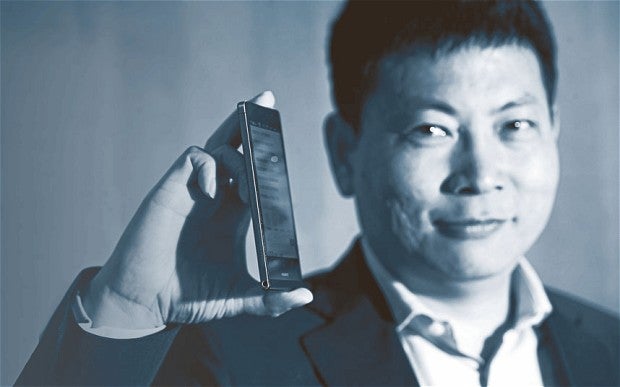 Huawei CEO Richard Yu holding the world's slimmest smartphone the Ascend P6
Huawei announced the world's slimmest smartphone last week, the
Ascend P6
, and adorned it with some premium design elements, alongside decent specs. Recently it also outed the
Ascend Mate
phablet, which we reviewed and found to be very well made, with barely a weak point.
It is thus becoming very apparent that the company is getting serious about its product offerings, applying the needed attention to detail, and trying to come up with good value-for-money propositions.
The ambition, however, seems to be much bigger - Huawei's CEO Richard Yu flew journalists from all over the world for
last week's unveiling
, and revealed his intent to make Huawei the top 3 mobile maker worldwide by 2015. Seemingly a lofty goal, but if you count all the millions of low-ends the company is churning out in China, totally achievable.
More interesting is that Yu is planning to focus on quality and innovation as well, paying meticulous amount to detail, and producing phones better than Apple and Samsung, while selling them for less. We can't say this is a bad recipe for success, if Huawei can pull it off. In an interview Huawei went even further, saying that Apple and Samsung are losing it, and there is a place under the sun for a competitor to offer superior products at a better price:
We want to provide the best, most beautiful, slimmest smartphone – this one [Galaxy S4] is much thicker. We're not made of plastic. In the high tier, if you have huge money to spend on marketing and branding, like Samsung, then everyone will buy that. We don't have so much money to do marketing and branding so
we have to make our products better
.
The best smartphone in the past was from Nokia, then from Apple, then from Samsung. And who is number one? The industry is so dynamic – no matter how successful you are, if you're currently number one, doesn't mean tomorrow you'll be number one. Samsung, they have such huge money – if you invest in marketing and branding then people will always buy no matter how good the products are.
The Samsung Galaxy S4 is just a so-so smartphone
...
In its latest update, Apple makes the phone extremely simple to use. But if we are just learning from them we can't catch up, because
they are now slipping
. We want to go higher than them...
We have a good relationship with Google. We want Android to be more user friendly, so we have made a lot of enhancements. Google is good for an engineer but it's not good for the consumer. It's a little bit too complicated.
Huawei doesn't just talk the talk, judging from the Ascend Mate and P6 - it actually introduced some bold features with its Emotion UI on the Mate, like the ability to call or hide the on-screen button bar in any app, and got rid of the app drawer once and for all, making you think why Google hasn't thought of those yet. It also wrapped the UI in hardware that performs above average in most categories that matter, and if it's the same story when the
P6
lands with us for review, the CEO has every chance to make a lasting impression with the phones developed under his supervision. What do you think?