Huawei Ascend P6 helps Lego Mindstorms machine solve Rubik's Cube on video
5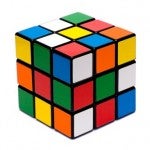 Huawei wants you to see how amazing the processor is on the
Huawei Ascend P6
. At 6.18mm thin, it is not only the thinnest smartphone on the market, it also features a home grown quad-core 1.5GHz K3V2 processor under the hood. To show off the phone, the Huawei Ascend P6 was called upon to solve a
Rubik's Cube
. An ARM engineer named David Gilday helped set up a Lego Mindstorms machine so that it would be powered by the Ascend P6.
Gilday explained how the process works. The front-facing camera is employed to take pictures of each side of the cube, and starts working on a solution by using an algorithm. The engineer says that the quad-core processor and the 2GB of RAM combine to help solve the problem. A Bluetooth connection allows the phone to communicate with the Lego Mindstorms, which also has an ARM based processor inside.
For the record, with the Huawei Ascend P6 as its brain, the Lego Mindstorms solved the cube in just 49 moves.
source:
ARM
via
AndroidAuthority