Huawei Ascend P1 and P1 S hands-on
10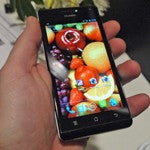 Huawei really started things off with a bang today at CES 2012 in Las Vegas, as the rapidly growing manufacturer pulled the covers off of two high-end handsets that are simply known as the P1 and the P1 S…
The
Huawei Ascend P1
and
P1 S
are very similar handsets, save for a few millimeters of thickness. Many of you will be happy to know that each handset is running on Android 4.0. The models that were on display did not have any custom user interface, just stock Android. Huawei is touting the P1 S as
the world's thinnest smartphone
, and they may just have an argument there given that it measures in at only 6.68mm. The P1 isn't exactly hefty either, but it is a tad bit thicker at 7.69mm.
Each device was light and easy to hold
. However they did have a bit of a cheap feel to them, given that each body was constructed out of mostly plastic. The glossy finish also caused fingerprints to pile up on the back. In order to save some space, Huawei made the slots for both the SIM card and the Micro SD card on the outside, rather than behind the battery. The top of each smartphone houses a standard 3.5mm headphone jack and a Micro USB port for charging and data transfer.
Both handsets feature a
4.3-inch Super AMOLED display
that packs a resolution of 540x960 pixels. We must say that the displays are fantastic. Colors really pop and text is sharp. Viewing angles were decent enough and overall the display of each device was just a pleasure to look at. The only drawback is that their PPI is rather mediocre, compared to the HD models. They also chose to utilize Corning Gorilla Glass for both the P1 and the P1 S.
Behind the scenes of both smartphones are a
dual-core 1.5GHz processor
and 1GB of RAM. Navigating each device was a breeze, as menus and apps opened swiftly and without hesitation. Web pages rendered almost instantly and the user experience of the device overall was simply great.
We didn't get a chance to test out the cameras, but both have an
8-megapixel shooter
with dual LED flash. Moreover, both are also capable of recording video in full 1080p HD. The front of each is home to a 1.3 megapixel shooter that will help in video-chatting and taking self-portraits.
There are many other notable features found on both the Huawei Ascend P1 and P1 S such as the inclusion of 5.1 surround sound with Dolby Mobile 3.0 Plus. Huawei also made note that each device is capable of "true global roaming." They support 5 UMTS bands as well as 4 GSM bands. Not too shabby.
There is no word yet on availability or cost, or if these handsets will even find their way to the States. But we leave Huawei's event feeling impressed with what they were able to accomplish with both the P1 and the P1 S.