Huawei Ascend D2 hands-on
15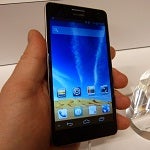 Huawei made two big announcements at their media event today at CES in Las Vegas. The first one, is aimed at being your next "all-in-one" device with premium build quality, great camera, and low-effort user experience.
We will start with the specifications since that is what everyone wants to know off the bat, the screen is a clear, 5-inch, 1920x1080 HD display with 443ppi. The screen is very nice. The other stand-out feature is the camera, which comes in at 13MP with HD recording ability. The rest is enough to keep the device in line with the other class leaders, 2GB RAM with 32GB of storage. Wi-Fi 802.11a/b/g/n is available with Bluetooth 4.0 LE. Interestingly, there is no NFC. The Ascend D2 is not bulky in the hand and the contours make it quite comfortable to hold.
Under the hood is a snappy quad-core 1.5GHz processor and a beefy 3,000mAh battery which Huawei claims will provide up to two days or "working" usability thanks to various power saving measures the manufacturer has taken.
Android 4.1 Jelly Bean is present with Huawei's "Emotion UI," which adopts a simple overall experience, but adds to the personalization with hundreds of available downloadable themes which change the appearance without changing the user experience. Responsiveness is clean and stutter free. The Ascend D2 will be available next month in China and Europe and Huawei says it is actively engaged with US carriers so the handset may be available here. Pricing was not announced with the debut.
Huawei stressed the build quality of the D2, stating that the device goes through a 116 step manufacturing process (nearly four times the average). In our initial impression, we can say the Ascend D2 is very well built. Check out the pictures below and watch for an update when we upload our hands-on video.