How to watch 360-degree YouTube videos on Android
13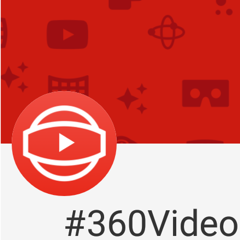 Earlier this year,
Google introduced 360-degree YouTube videos
, which can be viewed both on PCs (in Chrome only), and on Android mobile devices. The experience is better on Android, because, when you're on a PC, you have to use mouse clicks to change the camera angle. But if you have an Android smartphone or tablet, the built-in accelerometer lets you move your device to look around - literally all around - almost making you feel like you're there,
in
the video.
In case you were not aware that you could watch 360-degree videos on your Android device, we're now going to show you just how to do that (it's really easy).
Make sure you have the latest YouTube app installed on your phone or tablet, and open it. Once you do that, you'll be presented with the YouTube homepage (personalized for you, if you're connected with your Google account), from where you need to open the app's main menu by tapping on the button seen on the upper left corner. After the pull-down menu shows up, you need to scroll to the bottom until you get to the "Best of YouTube" section, where you'll see a dedicated 360 Video button. Tapping on this button leads you to YouTube's #360Video channel - and that's where all the cool videos are. Simply taping on any video will play it, letting you enjoy 360-degree sceneries from wherever you are.
Of course, you can also simply search for "360" from the YouTube app's search bar, and you'll find plenty of 360-degree videos (but not all results are relevant). Right now, video quality is not stellar, but that's not really Google's or YouTube's fault, since this depends on the cameras used to shoot videos.
Have you watched any 360-degree videos on your Android phone or tablet until now? How do you like the experience?