How to unlock the hidden, less saturated Adaptive Display mode on your Galaxy S6 and Note 4
21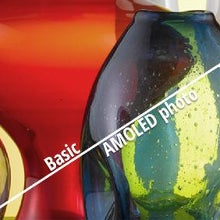 We recently
reviewed all the different display modes
that Samsung now offers on its latest AMOLED displays, showing that the company has grown leaps and bounds when it comes to hue presentation, brightness and color-correctness from the early days of its exclusive AMOLED technology. Our test results showed that the Basic mode offers the most credible color presentation, rivaling the one from the best IPS-LCD panels, while the Adaptive Display regime can boost brightness beyond 600 nits for use outdoors.
The default Adaptive Display mode, however, is still on the overly saturated side, so if you want to use this automatic regime to have great outdoor visibility, you will have to make do with colors that are a tad more eye-popping that your mobile shoe-shopping spree from Zappos warranted, leading to a potential surprise when you open the box. How about a hidden mode, though, that can make the stock Adaptive Display imagery look more toned-down in terms of saturation, and without that yellowish, warm effect you can observe with the default mode, too?
If it sounds good to you, check out our tutorial below, showing what you need to do to unleash that secret screen mode on your
Galaxy S6
or
Note 4
. We mention those handsets, because the mode seems to be hidden on TouchWiz-ed devices running Android Lollipop, but potentially every Samsung kit that is updated to the latest Android software probably has this mod lurking in the ROM itself, so here is how to enable it:
Method #1: Using the Nova launcher
1. With
Nova launcher installed
, tap and hold on an empty homescreen area, choose the Widgets option, and pick the "Activities" one;
2. Once in the Activities widget, choose Settings, then tap and hold onto the ModePreviewTablet setting;
3. Pick a new option, different from the one is already selected, and afterwards tap on the first one in the list - Adapt Display - followed by tapping OK, as shown in the video below:
Method #2: Using an app
1.
Download
and install the "More Shortcuts" app from the Play Store;
2. Pick the "Activity" option, go to Settings, and tap on the same ModePreviewTablet option;
3. Tap on the small blue arrow on the right, and launch this activity;
4. Same as before, you must chose a mode that is different from the one currently active, then go or return back to the Adapt Display mode option, and tap OK.
As a result, you will have a different layout in the display mode settings on your Galaxy S6, Note 4, or other handset on Lollipop with a TouchWiz ROM, making the default Adapt Display option look less saturated, less yellowish, and with more credible color presentation overall, at the same time keeping the scorching high automatic display brightness option. Hey, you don't even need root to try this one, which can't be said for most of the other useful hacks and mods out there.