How to turn on battery saver on Android 5.0 Lollipop
17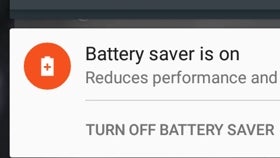 In case you didn't notice yet, Android 5.0 Lollipop introduced a battery saver mode, which eliminates the need of searching for third party apps that are supposed to help you preserve battery life. Of course, manufacturers like Samsung, LG and HTC have had a similar feature before Lollipop, but it's great to see this available for each and every device that's running (or will run) the latest version of Android.
As you'd expect, enabling battery saver on Android Lollipop is not a complicated thing to do. First of all, you need to pull down your quick settings menu, and tap on the battery status indicator that's found at the top. A battery settings sub-menu will open, from where you need to tap the three-dot menu button seen on the top right. Next, tap on "Battery saver", and simply turn it on (it's obviously off by default). From here, you can also set battery saver to turn on automatically, when your battery is either at 5%, or at 15%.
Exactly what does battery saver do when activated? Well, it reduces performance, and limits vibration and background data (thus, apps that are usually synced in the background - email, Facebook, messaging, etc. - will likely not update unless you open them).
Android Lollipop will let you know whenever battery saver is on by changing your device's top and bottom bars' color from black to orange (at least that's what happens on stock Lollipop). This may not look too good with all of your wallpapers, but that's not really important when you're looking to save battery life, right?