How to test out Ubuntu Touch core apps on your Ubuntu desktop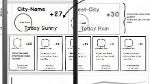 As usual, Ubuntu is letting us get access to some cool stuff early on in the process. But, also as usual, getting access this early means that there really isn't much to do. Even so, we now have access to the Ubuntu Touch core apps that are being built by the community, and here's how you can test them out.
First thing you'll need is Ubuntu running on your desktop or laptop, because you'll need to be in Ubuntu 12.10 for the apps to work. Then, just jump into your terminal, and add the PPA:
sudo add-apt-repository ppa:ubuntu-touch-coreapps-drivers/daily

Then, it's the standard update, and install:
sudo apt-get update
sudo apt-get install ubuntu-*-app

(Replace * with the name of the app you want to install: calendar, clock, contacts, docviewer, emailclient, facebook, filemanager, rssreader, terminal, twitter, weather, or youtube).
That will install any of the apps, but as we said, they don't really do anything just yet. But, given how quickly the open source community tends to work (not to mention Mark Shuttleworth saying Ubuntu Touch would be
ready for daily use
in "a couple of weeks"), the apps should be getting some features soon enough. Just keep checking for updates.