How to speed up Chrome on Android by making it eat up less RAM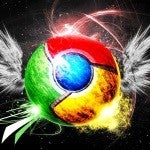 When it comes to Android browsers, Chrome happens to come stock and be wicked good at what it does. That's not to say the Google browser can't be a total resource hog sometimes. At times, you can find it struggling to load pages qucikly and browse smoothly enough, especially if your device is an older one with 1GB of RAM memory or less.
In times like these, doing some under-the-hood tweaking of Chrome can be quite beneficial to your browsing experience. So here's a nice and quick tweak we found that is a breeze to pull off, but it can potentially contribute to a speedier, less resource-greedy Chrome. Check out the slideshow for some easy to follow instructions.