How to set a custom ringtone or notification sound on Android
4
You may have noticed that since the Music app for Android updated to version 3.0, it has gained the power of
Google Music
(for those lucky few in the beta), but it doesn't have an important feature: setting a song as a ringtone or notification sound. Luckily, Android has an easy way to do this manually.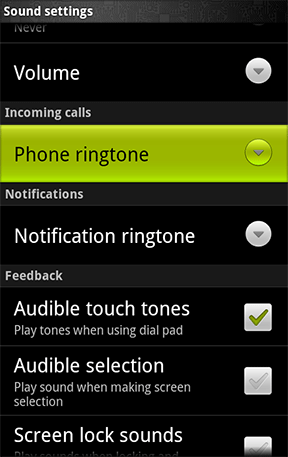 Granted, there are third party music apps which have the option of setting a song as a ringtone, but setting it up manually will make it easier when upgrading to a new phone because it will follow you on your SD card, without having to install a specific app. It's quite easy, here's how:
Connect your phone to your computer and mount the storage card, or grab a file explorer from the Market like ASTRO or ES File Explorer.

Create a folder in the root directory of your SD card named "ringtones" (no quotes) or "notifications"
Place songs or sound files in the appropriate directory
Once that is done, when you go to the "Sound" option in the Settings menu of your Android device, the song or sound file will appear in the list of options for ringtones or notification sounds. And, best of all, as long as you keep the same SD card when you upgrade your phone your ringtone follows with you!
Recommended Stories