How to quickly share links from your Android phone to desktop
15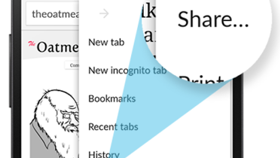 Want to try the quickest and easiest way to share links from your Android handset to your PC or laptop? If you do, you'll have to check out a brand new app called CaastMe.
Available to download via Google Play since earlier this week, CaastMe allows you to share links from any mobile browser (or any app that has a share function) in mere seconds. After you've installed CaastMe on your Android device, whenever you're browsing the web or use an app that lets you share links (like YouTube, Reddit reader, and so on), you'll have the option to share with CaastMe. Before actually sharing, you need to open the caast.me website on your desktop's browser - this will display a QR code. When you tap on share with CaastMe on your phone, your camera app will automatically open - point it to the QR code seen on the desktop browser, and you're done: the link you want to share will instantly appear in the tab where the caast.me website was open.
You will be surprised by how smooth everything goes with CaastMe. We're not aware of any fastest method to do this. Of course, there are various other apps that let you share links, but they require you to log in, or to install extra software on your desktop. CaastMe doesn't need those things, it's just simpler and quicker.
For the record, CaastMe 's developer says he was inspired by the way WeChat and WhatsApp use QR codes to allow users to log in. Try the new app (get it at the source link below - it's free) and let us know if you find it useful!
source:
Google Play
(free download, no in-app purchases) via
XDA Developers