How to make your non-Sony smartphone look like an Xperia (software-wise)
16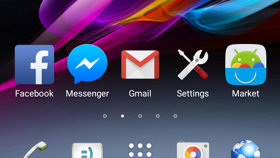 If you happen to like the look of Sony's UI that's used on the company's Xperia handsets, but you don't have an Xperia, you can bring that look to your non-Sony Android smartphone anyway.
To do that, you'll first need to download and install GO Launcher (either the free, or the paid version). Right now, GO Launcher is
one of the most popular Android launchers
out there, and, thanks to the fact that it supports many custom themes, you'll be able to use an Xperia theme with it. The theme that we're talking about is called Xperia Go Launcher EX Theme, and you can get it for free via Google Play. Download links for both GO Launcher and the Xperia theme are included at the end of this article.
Once you download GO Launcher, make it your default launcher from your phone's Settings -> Home submenu. After that, download the Xperia Go Launcher EX Theme, and apply it from GO Launcher's theme menu (this is illustrated in the slideshow below). That's pretty much all you have to do, although, of course, you can play around with settings and preferences in GO Launcher for a more personalized experience.
Needless to say, this custom Xperia look doesn't perfectly mimic the UI of a genuine Xperia, and won't bring in-depth changes (your settings menu and other submenus won't look different). Moreover, as always when it comes to custom themes, this might not work flawlessly on all handsets. But, if you like the idea of having an Xperia look on a non-Sony smartphone, you should give it a try.
P.S.: Note that the free version of GO Launcher includes ads.
download: GO Launcher (
Free
,
Prime - $5.99
),
Xperia Go Launcher EX Theme