How to charge your smartphone or tablet battery up to 50% faster
29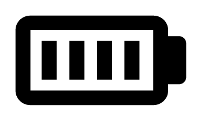 Uh oh. You forgot all about your the lunch date you made with your wife, who is supposed to meet you at the swanky Chock Full O' Nuts near 5th avenue in Manhattan in about 30 minutes. The problem is, your smartphone's battery is already in Zombie territory and you need to be reachable outside of the office in case there is a change in the Smedley contract that needs to be reviewed.
The first thing you're thinking about is that darn Smedley. He's always making changes to his contract. You start wondering if you can postpone the lunch, but considering that it is Monday night, you don't want to do anything that might jeopardize what you have planned for after Jay Leno. Well, perhaps you could get enough of a charge out of your battery for the little time you have left before you have to take that elevator down 50 stories, facing the lunchtime mob. The good news is that there is a very simple way to charge your smartphone and tablet up to 50% faster.
Consider that the power generated from the cell in your phone or tablet is going to feed a hungry bunch of radios, each demanding to be fed with nutritious power. If somehow you can easily shutdown all of the radios on your device, you could recharge it as much as 50% faster. So here is the solution. It's simple and if you have never thought of it yourself, you will wonder why. By turning on the Airplane mode and then plugging in your phone or tablet, you can quickly generate enough battery life in a short period of time so that you won't have to worry about your handset going belly up when you're out. In our fictional little story, it will give our hero the chance to meet his wife for lunch in time to keep her in good spirits, while recharging his device enough to keep it on throughout lunch in case Smedley does his thing.
The only downside to this is that while your phone is in Airplane mode, the radios are off which means you won't be able to make or take calls. But heck, that is what landlines are for.
source:
RedmondPie