How to change the default SMS app on Android 5.0 Lollipop
3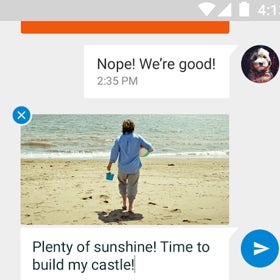 If you've installed Android 5.0 Lollipop on your device (or you've bought a device that runs Lollipop out of the box) and you're not happy with the default SMS app, you can easily change it. You can choose to set Hangouts as your default messaging app, or try out
third-party apps
- there are plenty of them available via Google Play.
Devices that run Android Lollipop out of the box (like the Motorola-made
Nexus 6
) come with a brand new Messenger app that looks and feels different from the Messaging app you've seen on Android KitKat or Jelly Bean. Whether you have the new Messenger app, or the old Messaging one, changing it with Hangouts or a third-party app is quite simple.
First of all, open up your Messenger / Messaging app, and tap on the menu button that's found on the right (either in the top corner, or in the bottom corner). You'll then have to tap on Settings - this will open a menu which includes the "Change your default SMS app" option. After you tap on that, your device's Wireless & networks menu will open (this, of course, can also be accessed from your device's general settings). Once there, tap on "Default SMS app", and choose whatever option you think you'll be happy with. And that's all.
PS: The new Messenger app - presented below - can be
found in Google Play
, and isn't exclusive to Lollipop. It's free to download on older devices that run at least Android 4.1.