How those 9 million iPhones sold during the launch weekend compare to the competition
98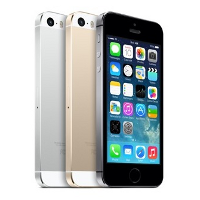 If you look at
Apple's announcement earlier today that it sold 9 million
Apple iPhone 5s
and
Apple iPhone 5c
units together, it sounds darn impressive. But that is without comparing the figures to those put up by the competition. Should Apple and its fans be ecstatic with the weekend sales number? Let's take a look.
For starters, we need to check out the
Samsung Galaxy S4
. This device is considered by most to be the top Android powered device and the platform's top competitor to the new iPhone models. The Samsung Galaxy S4 required
a whole month to reach 10 million units sold
. The
HTC One
is the Taiwan based manufacturer's most popular model in years. A unique design and a unibody aluminum construction combined with some new features (BlinkFeed) to help
HTC sell 5 million of these puppies in its first 30 days
. As popular and well regarded as these two handsets are, neither model came close to selling 9 million units in just three days.
Moving over to Windows Phone and the Nokia Lumia line, there really is no one model that comes close to putting up iPhone-like sales numbers. Since 2011, Nokia sold twice the number of Lumia branded handsets which sounds interesting until you remember that we are talking about only three days of sales for the Apple iPhone 5s and Apple iPhone 5c.
What about BlackBerry? Consider that the Canadian OEM just announced that it
sold 3.7 million BlackBerry units in Q2
. The problem is that most of these were running the old BlackBerry 7 OS. Based on these figures, it would take more than half a year for BlackBerry to come close to Apple's weekend sales total.
How does the opening weekend sales figure of 9 million Apple iPhone 5s and Apple iPhone 5c units compare to past iPhone launches? The original
Apple iPhone
sold 6.1 million units in its first five quarters. Last year,
5 million Apple iPhone 5 models were sold
during its opening weekend.
You can argue with friends (or enemies) whether or not the new Apple iPhones are innovative or better than the competition. But for all of the talk about the device dropping a rung or two on the smartphone ladder, the people have spoken with their wallets and have said otherwise. Meanwhile, you can check out our hot off the press review of the Apple iPhone 5s
right here
.
source:
Pocketlint