How often do you buy a new smartphone?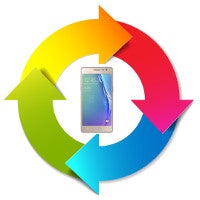 With Apple's new
iPhone Upgrade Program
guaranteeing you the latest iPhone as soon as it comes out, and with makers like Sony accelerating their product development cycle and offering an update twice a year, it's fair to say that devices are becoming more and more disposable. Up to a point where we can't help but look back at the glory days of old, when most people measured their phone's lifespan in the years, not months.
Are we switching to new devices more often than in the past? Undoubtedly, it seems, and largely thanks to various initiatives that make the process a piece of cake in comparison to having to offload your dinged smartphone through
eBay
or whatever — like Verizon
Edge
and AT&T Next. This, in turn, made us wonder,
Just how often do

you

buy a new smartphone?
And we require answers!
Let us know by voting right below. If your answer falls between two options, just pick the one you believe more accurately represents your buying patterns in the past.