How Apple iPad users prefer to use their tablet
20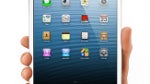 Onswipe has revealed the results of its first monthly look into how Apple iPad owners use their tablet, and the data is a fascinating look at how a multitude of people use the same product differently. Nearly
60% of iPad users
have their slate in
Landscape
mode when they are using it. The 41.2% minority likes to use their iPad in
Portrait
mode. And if you know someone that totes an iPad, don't bother them on Monday, Tuesday and Wednesday evenings at 10pm. That is the time that most owners of the device are using it.
So which Apple mobile device do people read more web content on? The answer is the iPad by a landslide. Surely the larger screen has something to do with it as Apple iPad users read 223% more pages during one internet session than users of Apple's iconic smartphone. Owners of Apple's slab might also be older than those who own other devices. When it comes to sharing messages, feelings and information, 54.8% still do it the old fashioned way-
by email
. 28.9% use Facebook to get things off their chest with Twitter accounting for 13.3% and Pinterest 3%.
When it does come time for an iPad user to tap the social networks, Facebook comes to mind first with Twitter second. The two account for 45.3% and 18% respectively of Apple's tablet users. Pinterest came in third with 12%. Reddit (8.2%) and StumbledUpon (6%) round out the top five.
Lastly, the Apple iPad continues to monopolize web traffic with the slate responsible for 94.1% of tablet based web traffic. According to the data, the Amazon Kindle Fire is next with a 4.1% share followed by the Google Nexus machines responsible for 1.8% of the traffic.
source:
AppleInsider